Recipe of the Week: Bruschetta with Marinated Eggplant and Mint
Categories: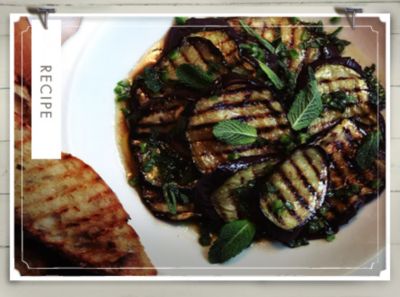 Yvette van Boven's Middle Eastern spin on classic bruschetta is a wonderfully easy-to-make, savory dish. We love the idea of bringing this plate to share at holiday potlucks and gatherings - just remember to make enough for everyone!
Bruschetta with Marinated Eggplant and Mint

Immersed in oil, the preserved eggplant can easily be kept for 2 weeks. It will become more oily, but the flavor will be more intense!

2 eggplants
1 cup extra-virgin olive oil and a little extra
2 tbsp honey
2/3 cup red wine vinegar
Salt and freshly ground pepper
1 green bell pepper
1 bunch fresh mint leaves, cut into strips
4 slices of course Italian bread
1 clove garlic
Cut the eggplants into slices approximately 1/8-inch thick. Heat a broiler to high. Brush the slices on both sides with a thin coat of olive oil. Broil the eggplant on both sides until done. Save until used.
Stir the honey through the vinegar. Beat in a trickle of olive oil until the dressing thickens. Season with salt and pepper. Halve the bell pepper, remove the seeds, and finely chop. Stir two-thirds of the mint through the dressing. Stir the dressing into the eggplant and leave to stand for at least 30 minutes.
Before serving heat the broiler. Broil the bread slices on both sides until brown. Trickle the olive oil and rub the garlic clove on the bread. Cover with a few eggplant slices. Garnish with the fresh mint and freshly ground pepper, and serve with the remaining eggplant.
Home Made by Yvette van Boven. Photography by Oof Verschuren. Stewart, Tabori & Chang, $40.
You May Also Like: