A Conversation with Rae Dunn
Categories: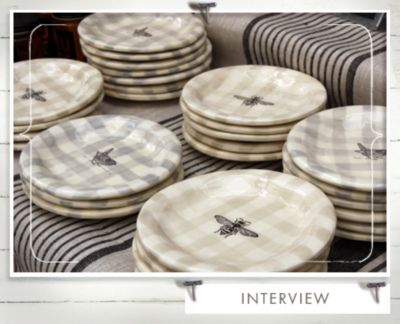 A little bit of background from one of our favorite ceramic artists, Rae Dunn.
terrain: Your background is in graphics and fashion. How did you end up working with ceramics?
Rae: When things started to become more computerized, I lost enthusiasm for design. One day while in Golden Gate Park, I spotted a magical cobblestone building. Upon entering, I learned it was an art studio offering public classes, and I just wanted to be in that building. I randomly signed up for a ceramics class, not having any previous desire for the medium, but because this particular class fit my scheduling needs. Et voila. Immediately, it quite literally took over my life. I felt as though I had found my voice. A true Luddite, I discovered what was perhaps the most primitive and tactile of materials: CLAY. It continued to slowly take over my life until one day it became my life completely. I like to think that I didn't find clay, it found ME.
terrain: What inspires the lovely imperfections we see in your work?
Rae: I have always been drawn to the natural imperfections around me . . . old rusty weathered things, wrinkled fabrics, faded and worn out things, etc. . . . things that are the opposite of what most people find beautiful. To me, these flawed things have such soul, purpose, and integrity. They tell a story and strike a chord in me that the "perfect" things don't. Perfection doesn't interest me. I like things to have the human touch and not be too precious.
terrain: What is your approach to creating new products?
Rae: I often create a new product out of the necessity in my own life. Something I need but don't have and can't find. I try to make things that I would want and use in my own home.
terrain: What do you do to keep energized and inspired while working?
Rae: I like to start my day off with a bikram yoga class. This helps to clear my mind and to kick start the day. Also, mid day roller skating with Wilma (my dog) is always re-energizing and I take plenty of tea breaks and walks in the aquatic park behind my studio.
You May Also Like: