Recipe of the Week: Kale Panini
Categories: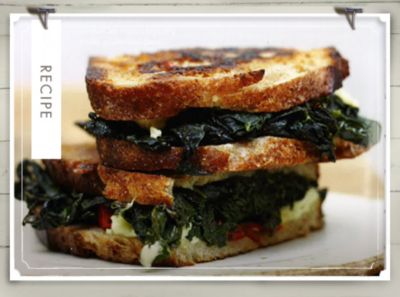 No winter would be complete without a hearty helping of kale - this week we're craving this recipe for Kale Panini from Andrea Reusing's Cooking in the Moment.
Kale Panini
serves 4
Billy Cotter devised this delicious meaty sandwich for his vegetarian wife, Kelli, at their restaurant Toast, in downtown Durham.
2 big bunches of curly kale (about 1 pound total), stemmed, leaves torn into pieces
1 1/2 tablespoon kosher salt
1 tablespoon olive oil, plus more for grilling
1 tablespoon red wine vinegar
8 slices rustic sandwich bread
10 ounces farmer's cheese or other crumbly fresh cheese, such as queso blanco or feta, broken into chunks
Pickled Chile Peppers (*recipe follows)
Freshly ground black pepper
Working in batches, blanch the kale in boiling salted water for 3 minutes, until tender. Use a slotted spoon to transfer each batch to a colander. When all the kale is cooked, let it cool and then squeeze with your hands to remove the excess moisture. Cut the kale into 1/2-inch-wide strips and put them in a bowl.
Preheat a panini press, or heat a large cast-iron skillet over low heat and have another pan of the same size ready to weight down the sandwiches.
Right before you are ready to assemble the sandwiches, season the kale with salt. Add the oil and toss well. Finish with vinegar.
Lay out 4 slices of bread and top them with equal parts kale and cheese; add chiles to taste. Season with salt and pepper, and top with the other slices of bread.
Lightly oil the panini press and follow the manufacturer's instructions for grilling the sandwiches. (If using a pan on the stovetop, raise the heat to medium, lightly oil it, and add as many sandwiches as can comfortably fit. Place the other heavy pan on top to press the sandwiches; if the pan is relatively light, add some weight to it, such as a large can or a full tea kettle. Rotating the pan on the burner frequently, cook the sandwiches for about 5 minutes, until deep golden brown. Transfer the sandwiches to a plate, re-oil the pan, and return the sandwiches to the pan, browned side up, to cook the other side, about 3 minutes.)
*Pickled Chile Peppers
makes about 1/2 quart
4 cups loosely packed hot, semi-hot, or sweet fresh chile peppers, with seeds
3 tablespoons kosher salt
1/4 cup sugar
4 cups distilled white wine vinegar
If your chiles are large, cut them into chunks or rounds. If they are small, simply split them in half lengthwise. Put the peppers in one or more jars with tight-fitting lids. In a medium bowl, dissolve the salt and sugar in the vinegar. Pour this over the peppers, close the jar, and refrigerate for at least 1 day before using.
Cooking in the Moment by Andrea Reusing. Photography by John Kernick. Clarkson Potter, $35.00.
You May Also Like: