From the Source: Blackcreek Mercantile
Categories: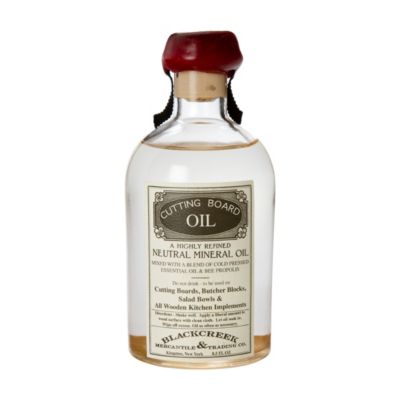 Made to protect and prolong the life of favorite cutting boards, the ingredients in Blackcreek Mercantile's food safe oil are each carefully chosen for a specific beneficial purpose. We wanted to know a bit more about what goes into the oil, and our friends at Blackcreek were happy to share.

Blackcreek: Being aware of the types of products that we choose to have in our lives is very important to us. We freely disclose all of the ingredients that we use, and we are proud to stand by our oil. Every ingredient we use in creating the cutting board oil is the most highly refined and/or organic ingredient that we could find.

Food Grade White Mineral Oil
Because of its properties that prevent water absorption, combined with its lack of flavor and odor, food grade white mineral oil is a popular preservative for wooden cutting boards, salad bowls and utensils. Unlike other oils commonly used on wooden kitchen items, mineral oil will never turn your boards or implements "sour" or become rancid.


Food Grade Cold Pressed Lemon Essential Oil
The practice of distilling oils from plants is thought to have began 6,000 years ago in ancient Egypt. Kept in a cool, dark place essential oils should last several years. The oils found in the tomb of King Tutankhamun were in immaculate condition even after many centuries. Lemon essential oil (Citrus limon) is one of those oils that can be used for many different applications. It is thought to be highly anti-bacterial and it smells wonderfully refreshing. Lemon essential oil is cold-pressed from the rinds of lemons.

Bee Propolis
Propolis, also known as bee glue, is produced by bees during hive construction to fill structural gaps. It has approximately 50 constituents, primarily resins and vegetable balsams, waxes, essential and aromatic oils, and pollen. Since ancient times, this agent has also been incorporated into numerous medical and cosmetic products since it is believed to be a potent antiseptic and anti-inflammatory substance, local anesthetic, astringent, and antioxidant. Moreover propolis may now be found in toothpaste, mouthwash preparations, facial creams, chewing gum, polishes, and varnishes.
You May Also Like: