A Conversation with Rinne Allen
Categories: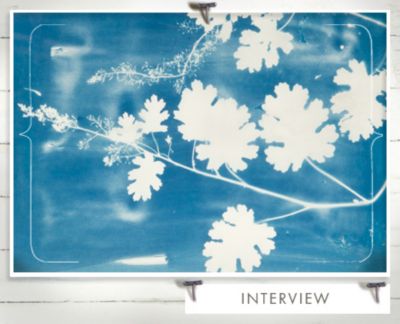 Her storied garden inspires the light drawings we have long loved. Recently, Rinne Allen shared a bit more about her process and her garden blooms.
terrain: What first inspired you to start creating your light drawings? Was the process something you studied, or something you picked up on your own along the way?
Rinne: I was introduced to early photographic methods in college while I worked on my photography degree. My photography professor had a deep knowledge of early printing methods: platinum-palladium, cyanotype, etc., so we were extremely lucky to learn these processes, as they are very rare today.
But, my interest in them was rejuvenated when my mother and I went to see an exhibition at the drawing center in New York City called "Ocean Flowers: Drawing from Nature". There was a whole wall full of cyanotypes by Anna Atkins and they were so, so beautiful.
My mom and I went back home to Georgia inspired, and soon made our first batch of light drawings in her backyard garden.
That was over seven years ago, and I have been making them ever since.
terrain: Can you tell us a bit about the process of light drawing itself?
Rinne: Light drawings were some of the earliest types of photographs made. They pre-date cameras. They were called light drawings because the light 'drew' the subject onto the surface, be it glass or paper. Some people refer to them as sun prints or photograms, and mostly they range in tone from black to brown to blue.
When making my light drawings, I paint a light sensitive chemical onto a piece of watercolor paper. This is done in the dark, hence some of the wavy edges! While the paper is drying, I go into my garden and pick specimens to use... Sometimes I go back to the same plants because I just cannot get enough of them, but often I try things that i have never tried to see how they work. Sometimes my experiments are successful, but many times they are not. But that is part of why I love this process- you cannot control how they turn out, you just have to wait and see what develops.
Once the paper is dry and I have my specimens selected, I place the specimen directly on top of the treated paper and go outside. The sun and the light sensitive pigment create a chemical reaction that leaves a silhouette of the specimen on the paper. The specimen is then removed and the paper treated to preserve the shadow. They are all one of a kind. I should note that I make these on sunny days usually, but overcast days work too... You just need a longer sun exposure.
terrain: It must be inspiring to surround yourself with plants in your garden studio. What is it like working in that space?
Rinne: Each window in my space looks out over a different part of our yard. One window faces a shady magnolia tree trunk, one towards a sunny veggie plot, and one towards a stone wall and cutting garden. It is pretty great to have ingredients right outside my doorstep, but mostly I love having these natural backdrops to look to when I am inside working.
terrain: Your hometown of Athens is full of history, and it sounds like your garden is too. Can you tell us about your garden's history and how you came to care for it?
Rinne: Our garden was created by the late John Linley. He lived in Athens for many years and taught in the landscape architecture department at the University of Georgia. He bought our property in the late '60's and created this one acre oasis right on the edge of downtown. Mostly with his own hands and the hands of friends, he turned a steep, overgrown hillside into a series of paths and small shady nooks. At the base of this hillside, there is a small stream with a large granite outcrop. When standing on this rock, you can see the top floor of one of the taller downtown buildings peeking above the treetops, so it is quite a juxtaposition. Mr. Linley passed away in the mid-90's and that is when my husband and I bought the house and garden. We were definitely young gardeners at first, but that is a good way to begin taking care of a place like this! Over time, we have gotten to know the garden and how it grows. We have since added a full-sun veggie garden, a perennial bed, many fruit trees, a homemade greenhouse, and other out-buildings.
terrain: What's blooming in your garden right now?
Rinne: In Georgia right now, it is hot! But, our figs are ripe and our herbs love the sunshine... Things like castor bean and sunflowers are still going strong too. Our garden is really green at this time from groundcovers like selaginella, and one of my favorite trees, big leaf magnolia, seems gargantuan- its leaves are like green umbrellas shading us from the strong sun.



You May Also Like: