Recipe of the Week: Simple Stuffed Mochi with Bitter Greens
Categories: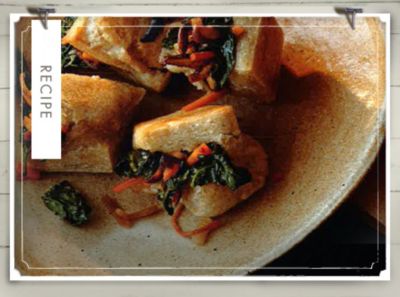 Rich in whole grains and nutritious greens, this recipe from Terry Walters' Clean Start yields a delicious and healthy bite-sized snack for any day of the week.
Simple Stuffed Mochi with Bitter Greens
makes 12 stuffed mochi squares
Mochi is made from pressed sweet brown rice and comes in a variety of flavors, including cinnamon raisin, plain and even chocolate (which is difficult to find but worth the effort!). Keep mochi in your refrigerator to use when you don't have time to prepare whole grains or as a nutritious alternative to bread. Mochi makes a great pocket for leftovers, chopped dried fruits and nuts and, of course, sautéed greens and vegetables, as I've done here.

12 fresh shiitake mushrooms
1 leek, sliced widthwise
1 tablespoon extra virgin olive oil
1 tablespoon Braggs Liquid Aminos or more as needed
1 cup grated carrots
1 cup grated daikon
1 tablespoon mirin
1 large bunch lacinato kale, chopped into bite-size pieces
1 tablespoon toasted sesame seeds
1 12.5-ounce package garlic or onion mochi, cut into squares
Preheat oven to 350F.
Prepare shiitake mushrooms by removing and discarding stems and slicing caps thinly. Set aside.
Heat large skillet to medium and sauté leek in olive oil until soft (about 3 minutes). Add shiitakes and continue sautéing. Add water or liquid aminos 1 tablespoon at a time to deglaze pan. Continue sautéing until mushrooms caramelize (8-10 minutes total). Add carrots, daikon and mirin and sauté until carrots are soft (4-5 minutes). Fold in kale and sauté 4 minutes or until tender. Remove from heat, toss with sesame seeds and set aside.
Place mochi squares on a parchment-lined baking sheet and bake until they puff (follow directions on package). Remove from oven, slice open each puff, stuff with sautéed greens and serve.
Clean Start by Terry Walters. Photography by Gentl & Hyers. Sterling, $25.
You May Also Like: