A Conversation with Yarok
Categories: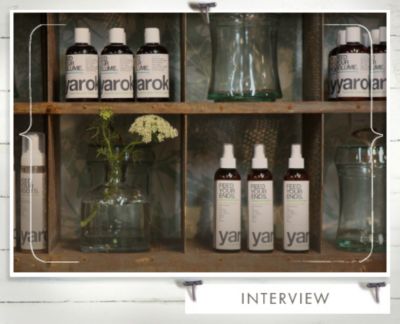 We asked Mordechai Alvow, founder of Yarok hair products, to tell us the meaning behind their name and tips for daily haircare.
terrain: What inspired you to create Yarok? Where did the name come from?
Mordechai: I remember spending so much time in perfume shops as a kid, fascinated by the smells and the shapes of the bottles. Yarok was created in my kitchen. I ordered lots of raw ingredients like oils, herbs, butters made of nuts and started to choose ingredients that I wanted to incorporate in my line. "Yarok" means "green" in Hebrew and it was an easy and simple choice - I planned on using only natural, pure ingredients that are "green."
terrain: With all the traveling between New York, Chicago, Miami, Israel and London – which Yarok products can't you leave home without?
Mordechai: Feed Your Ends has the perfect aroma, it makes my hair soft to the touch, and the spray bottle keeps my hand clean! I also use one or two drops of Feed Your Shine to give a perfect shine without making my hair oily.
terrain: What's the most important thing we should know about daily care for healthy hair?
Mordechai: Drink lots of water and maintain a healthy diet - vegetables do wonders for hair and nails.
You May Also Like: