Summer Solstice Supper: Watermelon & Ricotta Salata Salad
Categories: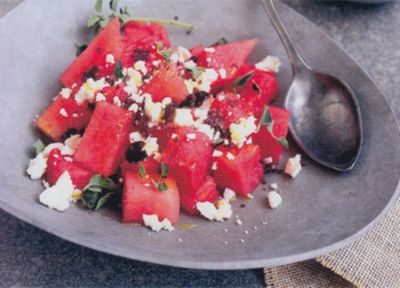 A tasty summer treat in honor of the solstice, this refreshing salad is one our favorites from the Mediterranean-style dishes in Summer Days & Balmy Nights, and perfectly suited for this week's heat-wave.
Watermelon & Ricotta Salata Salad with Olive Salt
Serves 2
This is a delightfully pretty and refreshing salad in which the olive salt brings out the sweetness of the watermelon. Ricotta salata, a lightly salted cheese made from sheep's milk, originates from the island of Sicily. If you can't find a mini watermelon, use the smallest available and cut it in half. You can use feta cheese if ricotta salata isn't available.
1 mini seedless watermelon
2/3 cup ricotta salata cheese
2 tablespoons fresh oregano leaves
olive oil, for drizzling
freshly ground black pepper
Olive Salt
10 black olives
2 1/2 tablespoons sea salt
Peel the watermelon and cut it into bite-sized chunks. Put in a serving bowl, crumble the ricotta salata over the watermelon and sprinkle with the oregano.
To make the olive salt, chop the olives roughly. Grind them with the salt using a pestle and mortar until the olives are mashed.
Drizzle the olive oil over the salad and season with black pepper. Sprinkle with olive salt to taste and serve immediately.

You May Also Like: