A Conversation with Blackcreek Mercantile & Trading Co.
Categories: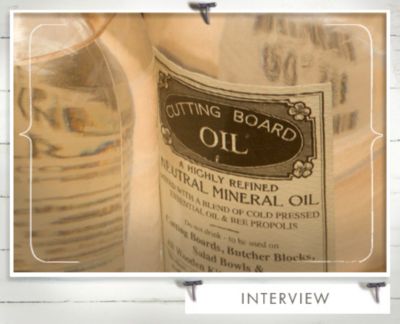 Their cutting boards are carved by hand near the banks of New York state's Black Creek. Recently, we had a chance to hear from Blackcreek Mercantile & Trading Co.'s Josh Vogel and Kelly Zaneto about the thoughtful approach behind their heirloom boards and oil.
terrain: First things first. Your name is so well suited for your products. How did the name come to be?
Blackcreek: We live in the Mid-Hudson valley around the Black Creek. We love the rich history and sense of tradition of where we live and wanted the name of the company to reflect that. We are very interested in community, cottage industry and building a brand based on these same basic ideas. The Mercantile & Trading part of our name harkens back to a time where people built businesses based on those principles. We know the name is a bit long, but it really resonated.
terrain: Where do you source the wood for your cutting boards?
Blackcreek: We work with local sawyers and arborists who by the nature of their business practice sustainable forestry on a small scale. There is such a local abundance of hardwoods that we have the luxury of being very selective with the material we use. Different types of lumber are better suited to produce different items. Often times, the size of a tree will decide the relative batch size of our boards.
terrain: What inspired the creation of your cutting board oil?
Blackcreek: Proficiency in wood finishing is an important part of being a furniture maker, which has been the majority of Josh's career and work experience. He has always enjoyed formulating or reformulating his own finishes and re-investigating traditional finishing materials and techniques. We have always had a "house blend" of cutting board oil but it wasn't until after taking a beekeeping class that it really all came together.
terrain: What was the process like of creating the oil, how long was it until you felt you had perfected it?
Blackcreek: We have been developing this oil for years. Originally we made it for family & friends. And because people really enjoyed using it and the feedback was great, we decided to make a small batch to sell. We had a pretty good idea of how we envisioned the product to be, so after we committed to a small production run, it came together pretty quickly.
terrain: What's your favorite meal or snack to cook or serve on your cutting boards?
Blackcreek: You can imagine we have a lot of wood around our house, especially in our kitchen. We use our cutting boards on a daily basis for just about everything. From preparing foods to serving meals. Recently Josh has been into making omelettes so we will dice up all types of vegetables, mushrooms, meats, cheeses, & fresh herbs.
terrain: Is there anything that we missed?
Blackcreek: We are striving to actively be part of "the solution". We are a small cottage industry business that works hard to produce useful, thoughtfully made, sustainable products in which quality & value are inherent. We believe in products whose purpose & use enrich our lives and we are happy to be part of a growing community of people and businesses, both consumers and producers, that recognize the importance of this connection.
You May Also Like: