A Conversation with Mani Designs
Categories: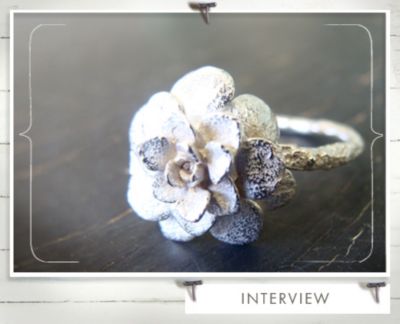 terrain: So much of your jewelry is cast from items found outdoors around your studio. Can you describe those surroundings for us?
Mani: Well, I've recently moved back to the Blue Ridge Mountains of North Carolina and my studio is on an island in the middle of the French Broad River in the old High School, which a wonderful local potter saved from being demolished and beautifully refurbished. So, it's a very lovely setting and I appreciate so much being able to be there.
terrain: Do you have a favorite spot to go looking for natural found objects for your jewelry?
Mani: This is a pretty lush environment so I'm able to find things everywhere. I went raspberry picking this morning for example, and the blueberries at a nearby farm will be ready this weekend. I try to be observant whenever I'm outside. So much is blooming right now, and if I forget to look outside, sometimes I miss something.
terrain: Can you tell us a bit more about your design process? Do you go out in search of a particular botanical element for your jewelry, or does what you find inspire the design?
Mani: I think both. For example, I was lucky enough to be able to travel to India last December with my husband, Clay. We visited the village and community where I lived for some years after college. The gardener took me around and gave me permission to pick whatever I wanted. As we walked, he gave me little tidbits of information about the different plants and their importance and I cast from that experience a branch from the Custard Apple Tree or, as it's known in India, Sitaphul. Whenever I come to know more about a tree and its significance, the more I want to cast something from it. Sometimes it is the other way around and I find something beautiful and then I research and learn more about it after it's been cast.
terrain: Can you tell us a bit about the lost wax technique that you use, and what inspired you to make your jewelry this way?
Mani: I learned the lost wax casting technique while studying at the Penland School of Crafts, but in many ways I am self-taught, because I tend to ignore a bit some of the rules of the technique. I do that because I want to push the boundaries of what is considered possible, and I have had some good luck in doing that. But lord knows I am still learning, and there's always room for improvement and honing of my skills.
The technique is traditionally for sculpting in wax, and I am cheating in some ways by skipping that process and using the plant matter directly as my source. I think because I came to metalsmithing in my 30's, I felt a little bit more comfortable doing somewhat irreverent things in the field. I was more interested in capturing something beautiful than I was in the accolades of being able to sculpt it. I am still largely motivated by that intrigue, and funny as it may sound, I also feel as though I am collaborating with my garden.
You May Also Like: