A Summery Monochromatic Planting with DBT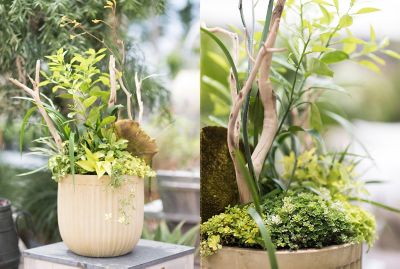 Earlier this season, we tapped our Design By Terrain team to create some gorgeous monochromatic plantings with a few of our fiber concrete barrel pots. The results were stunning, and we were inspired to do the same with the new yellow colorway just in time for high summer. We asked our designer Kaitlin D. to create a sunny planting to complement the summer-ready color and give us some pointers to create our own monochromatic plantings.

terrain: As a designer, can you share what you like most about our fiber concrete barrel pots?

Kaitlin: I have always been attracted to the stylish color and sleek design of terrain's fiber concrete barrel pot program. A few new color styles hit stores this season, and I was interested in showcasing the yellow colorway in a summer-forward design. Bright yellows, chartreuse greens, and oranges are a great color palette to look to when considering a summer arrangement, and as such, the design coalesced into a bright monochromatic color story.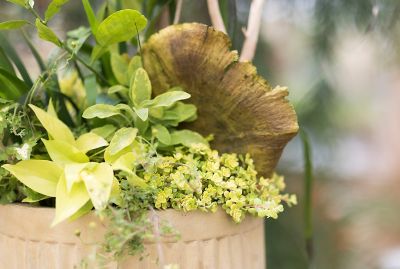 terrain: Can you take us through the plants you used in this one and why they work well together?

Kaitlin: While planning out the design, I immediately gravitated towards two plants: a yellow Kangaroo paw (anigozanthos big roo) and a Sedum makinoi (a mix that combined chartreuse, green, and variegated sedums). I find that Kangaroo paw provides height and a unique silhouette and bloom, and Sedum makinoi provides a lush spiller that will grow over the rim of the container. I was also interested in incorporating a citrus grapefruit standard, to help fill out the container and merge the height of the Kangaroo paw with the lower plants within the arrangement. In order to maintain the yellow/chartreuse color story, I incorporated bidens, golden oregano, pothos neon, Great Falls coleus, golden sage, as well as Selaginella. Lastly, I added a large ghostwood branch and a yellow-ochre shelf mushroom to the arrangement in order to give the container structure and intriguing texture.

terrain: Gorgeous! Do you have any tips for monochromatic container plantings for the home gardener?

Kaitlin: When choosing to design in one color palette, it's important to think about scale, texture, and silhouette. Most importantly, allow yourself to be playful with the plants that you're choosing. Sometimes combining two plants that may not exist together in nature makes for a really unique and fun container.


If you love the look of a monochromatic planting but would rather leave it to the professionals, be sure to contact your local Design By Terrain team to customize your own container!