Winter Skin Rituals: Hydrate & Rejuvenate with Kindred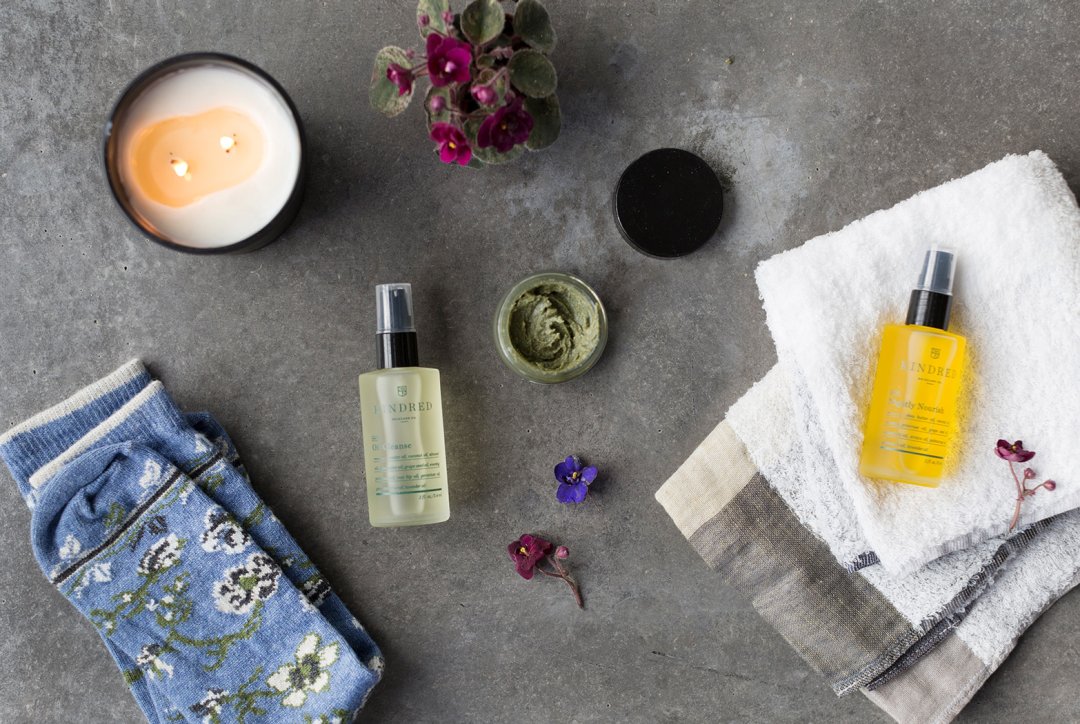 The winter months can be challenging when it comes to skincare, whether you're combating cold, dry air or the lingering effects of holiday indulgences. For a much-needed refresh to our beauty routine, we asked some of our favorite skincare experts to share winter skin rituals for a variety of seasonal challenges. This week, founder Frances Thrasher of Kindred Skincare Company, makers of 100% organic, oil-based products to cleanse, nourish, and calm fragile skin. Below, she shares a relaxing ritual that's perfect for a quiet winter evening. Frances says, "The goal of this routine is to destress, rejuvenate, and unwind your body and mind while hydrating the skin. It also works to address fine lines and aid in cell turnover for healthy, refreshed skin."
What You'll Need
Kindred Oil Cleanse
Kindred Polish Cleanse
Kindred Body Oil
Kindred Clay Mask (available at terrain this spring)
Kindred Nightly Nourish
Soft socks & pajamas
Soft washcloth
Woodsy candle
Fresh flowers or plants
1. Prepare your space. Bring in a few favorite flowers or plants (mine is African violet), draw a warm bath with Epsom salts, and light your favorite candle (I especially like a woodsy scent in the wintertime).
2. Apply your Oil Cleanse. Start with a dry face and makeup on, as the cleanse will easily remove it. Apply the Oil Cleanse with clean, dry hands, using enough that the oil slips easily on the hands and face. Starting at the bottom of your neck and using circular motions, massage the oil over your neck and face for about two minutes. This will help move fluid out of your tissues and into your lymph nodes where bacteria can be destroyed.
3. Apply your Polish Cleanse. Normally, you would rinse off the oil cleanse at this point, but for this routine you can use your fingers to apply an almond-sized amount of Polish Cleanse all over the face and neck. This step will remove dead skin in order to prevent clogged pores and bacteria build up, and help your moisturizers work more effectively. When you're finished, rinse the face with a warm washcloth and pat dry.
4. Apply your Clay Mask. Then, let yourself soak in the bath for at least 15 minutes. During this time, while the Clay Mask is doing its work of plumping fine lines and evening skin tone, I try to let go of whatever wasn't good from the day and focus on what was. It's a time to be kind to yourself--I literally count my blessings.
5. Remove the Clay Mask with a warm washcloth. Pat your face and body dry.
6. Apply your Nightly Nourish and Body Oil. Start with the Nightly Nourish on your face and neck, followed by the Body Oil from your toes up to your neck--and even into your hair. Massaging the oils into your skin will lock in moisture for the night and protect against dry winter air. Once the oils are applied, I like to step into my favorite fleecy pajamas and socks, and get cozy for the night.
You May Also Like: