Winter Skin Rituals: Brightening with OSEA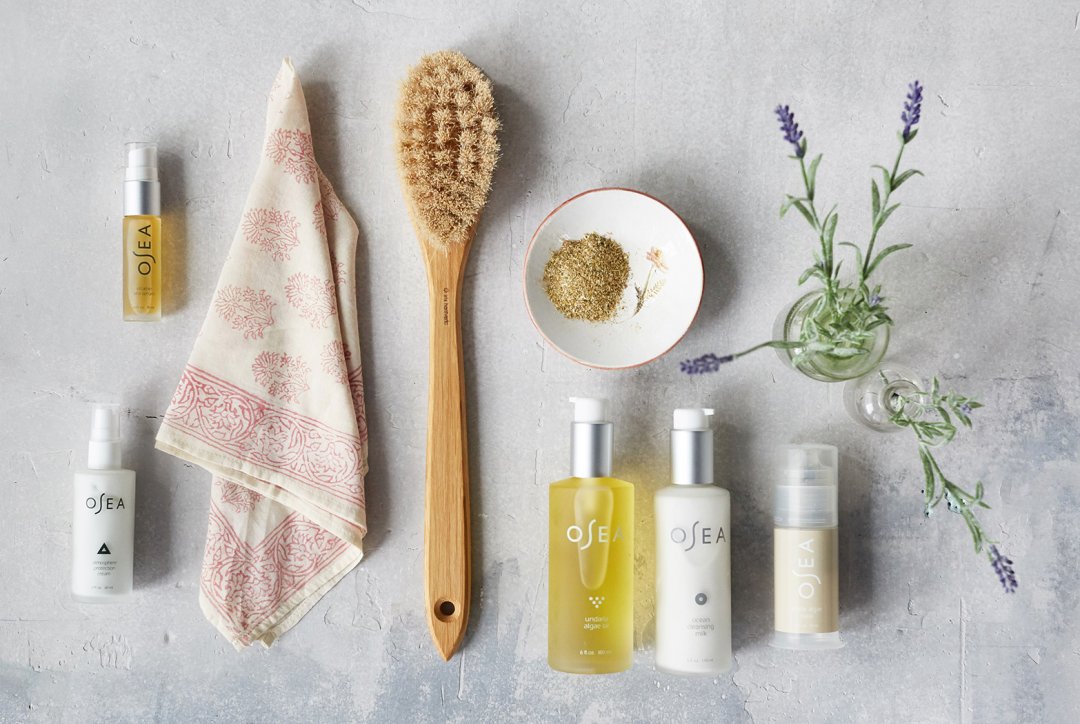 The winter months can be challenging when it comes to skincare, whether you're combating cold, dry air or the lingering effects of holiday indulgences. For a much-needed refresh to our beauty routine, we asked some of our favorite skincare experts to share winter skin rituals for a variety of seasonal challenges. This week, founder Jenefer Palmer of OSEA, the Malibu-based makers of vegan skincare formulated with Patagonian algae, a "skin superfood" packed with revitalizing vitamins, minerals, and amino acids. Below, she shares a restorative ritual that's perfect for achieving a healthy glow. Jenefer says, "When temperatures drop (and they do–even in Malibu!) it's time to switch to an ultra-hydrating routine that will brighten dull winter skin. Here is my favorite weekend at-home spa ritual after a chilly January swim in the Pacific Ocean."
What You'll Need
Ocean Cleansing Milk
White Algae Mask
Holy Basil Tea
Vitamin Sea Serum
Atmosphere Protection Cream
Undaria Algae Oil
Dry brush
1. Soothe and cleanse with Ocean Cleansing Milk. Switching to a hydrating cleanser is so important in the winter! I use soothing Ocean Cleansing Milk to gently remove impurities while hydrating skin with water lily, rose and cassie flower essences.
2. Brighten with the White Algae Mask. Apply the White Algae Mask to your face to naturally brighten dull winter skin and deliver long-lasting mineral hydration. Leave the mask on for 15-20 minutes and rinse with warm water. While I'm waiting for the mask to work its magic I like to meditate or drink a cup of Holy Basil tea. This adaptogenic herb is the perfect potion to de-stress and keep you warm and toasty. For a real treat, add some homemade almond milk and a few drops of coconut nectar.
3. Nourish with the Vitamin Sea Serum. Serums are everything because they can penetrate deeper, delivering active nutrients to your skin. Formulated with 7 seaweed extracts, turmeric and Hyaluronic Acid, our Vitamin Sea Serum deeply hydrates, plumps and gives winter skin the most gorgeous glow.
4. Moisturize with Atmosphere Protection Cream. In the winter, I'm obsessed with Atmosphere Protection Cream to keep my skin hydrated and soft. This lightweight organic seaweed and botanical moisturizer is loaded with skin-softening shea butter, avocado, and jojoba oils.
5. Dry brush for an energy boost. Dry brushing increases energy levels by improving circulation, and eliminates toxins and other wastes from the body. I like to dry brush for a few minutes pre-bath or shower, in long gentle strokes towards the heart.
6. Massage with Undaria Algae Oil. Treat yourself to a full body Abyhanga self-massage with mineral-rich Undaria Algae Oil. I like to gently heat the glass bottle in warm water before beginning. Massage your scalp with oil and continue down to the face, outer parts of the ears, neck, arms, hands, fingers, chest, tummy, back and legs. Finish with the bottoms of the feet. Wait a few minutes before getting dressed to allow oil to absorb or rinse in the shower. Your skin will be ultra-soft and positively glowing.
You May Also Like: