Winter Gardens at Scott Arboretum
On a very wintry day just before Christmas, the terrain team took a field trip to the nearby Scott Arboretum at Swarthmore College. Encompassing more than 300 acres that make up the college campus, Scott Arboretum was founded in 1929 as a living memorial to alumnus Arthur Hoyt Scott. Today, it includes thousands of specimens that make Swarthmore a remarkably beautiful place; the gardens are home to more than 5,000 woody plants, 5,000 ornamental plants, and 2,000 herbaceous plants. We visited during an unexpected season to see a particular feature: the cold-hardy Winter Garden. However, we were pleasantly surprised to find beautiful moments at every turn. Horticulturist Josh Coceano kindly braved the chilly weather to guide us through the arboretum's winter highlights. Take a tour of our favorite cold-season specimens, below.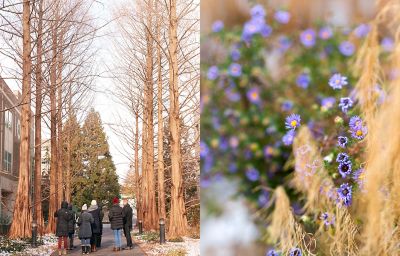 Swarthmore College was established in 1864; its Quaker founders followed the tradition of planting trees around the campus to commemorate special occasions. Early graduating classes often planted a tree in farewell to the college, and serveral still stand today. During the winter months, many trees on campus are noteworthy for their unusual bark. Without their spring blooms, Crape myrtles offer cinnamon-colored, exfoliating bark. Above, column-like Dawn Redwoods line a path with beautifully tapered and textured trunks. Below, winter-blooming camellia and evergreen specimens enliven the garden.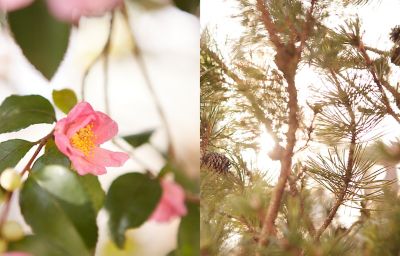 In the Nason Garden, stands of ornamental grass will remain until February, when gardeners cut back a majority of the plants in preparation for a spring refresh. Beautiful year-round, a steel-blue juniper provides lush clippings for the arboretum's popular series of winter wreath workshops. At right, Josh Coceano gives us a closer look at one of the holly varieties found around campus.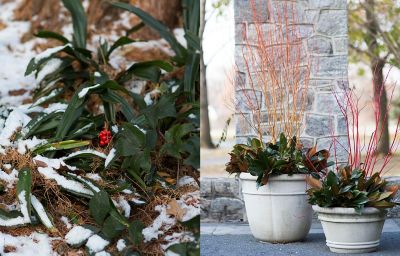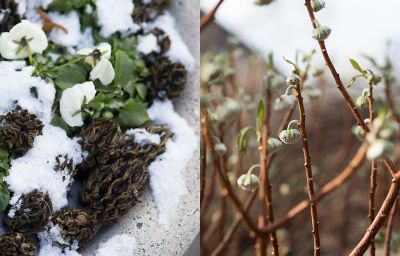 The arboretum team revitalizes container gardens around Swarthmore's campus three times each year. Springtime flowers at graduation give way to summer tropicals, then hardy displays of rooted flame willow, magnolia cuttings, and pinecones that can withstand the windy hilltop environment. When we visited, the year's first dusting of snow provided a finishing touch to the festive winter containers. Across campus, bushes studded with red winterberry and purple beautyberry lend color during early winter, but provide snacks for visiting birds as the season progresses.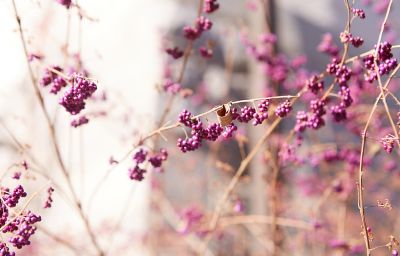 If you'd like to take your own winter garden tour, the Scott Arboretum is open to the public 365 days a year from dawn until dusk. You can also visit the arboretum offices for more information, or become a member for access to gardening lectures, guided tours, plant sales, seasonal events, and much more. Plan your visit here.
Wow! Amazing photos. The dusting of snow really made the place magically. Thank you for sharing your visit. Becky Robert