A Winter Cocktail with Belvoir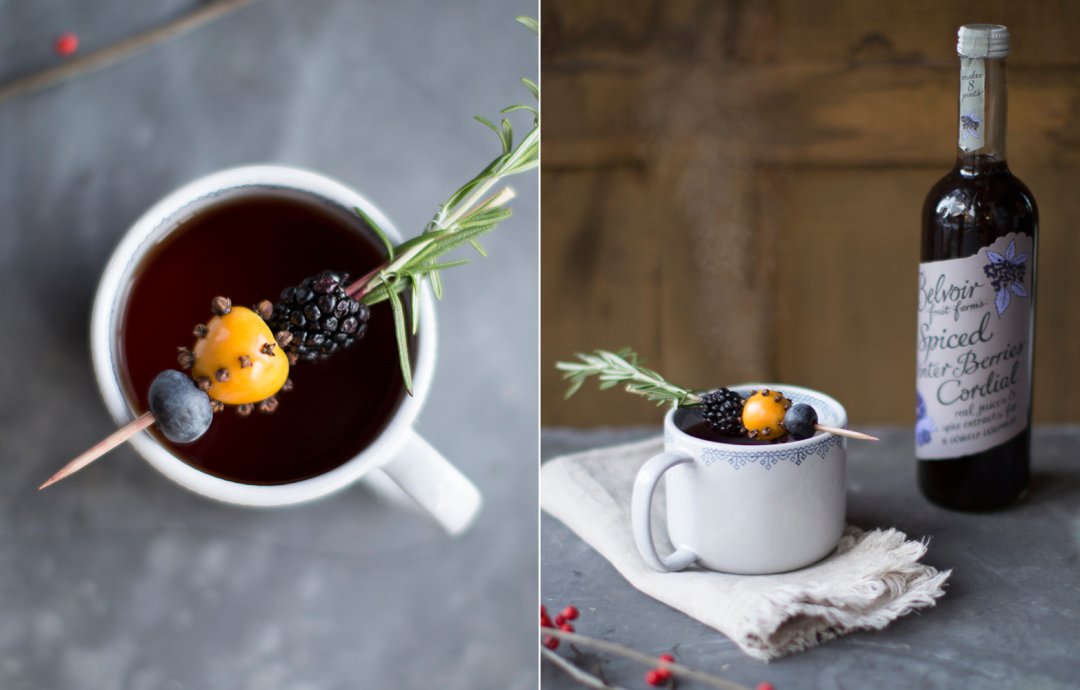 We're playing host to a few Christmas cocktail hours in the coming weeks, and our bar is well-stocked with seasonal mixers from the folks at Belvoir Fruit Farms. Made in the English countryside using a bounty of fresh fruits and flowers, these colorful cordials and pressés inspire us to get creative with cocktails throughout the year. During the holidays, Julie C. and Douglas W. from our Westport team love to mix up Belvoir's Red Robin -- a warm and wintry blend of berry cordial, golden rum, and spices. Find their festive take on the recipe, below.
Julie and Douglas write, "Who wouldn't love a delicious, organic cocktail, mixed with a spiced cordial that was made on the grounds of a 13th-century English castle? You can always find us making cocktails with our favorites from Belvoir, and this holiday season we're serving a twist on a Belvoir classic -- the Red Robin. Starting with a splash of Spiced Winter Berries Cordial, we dressed up our drink with fresh, clove-studded kumquats and juicy berries. The original recipe calls for golden rum, but we've substituted gin, vodka, or prosecco, too. You can also omit any alcoholic ingredients, making this a great holiday mocktail for younger guests and non-drinkers."
The Red Robin
Makes one cocktail
1 oz. golden rum, vodka or gin
0.5 oz. Spiced Winter Berries Cordial
2.5 oz. red grape juice
Orange and lemon peels
Grated nutmeg
Grated cinnamon
Kumquats, whole cloves and berries to garnish
Warm all ingredients together in a pan, stirring gently. Stud kumquat with cloves. Serve hot, garnished with kumquat and berries on a skewer.