Wild + Wise: Li Wah Lai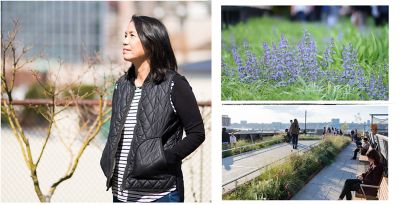 This Mother's Day, we're celebrating all of the amazing women in our lives with profiles of six women who have inspired us. This group includes Li Wah Lai, a New York artist who volunteers her time and talents at the High Line and The Creative Center at University Settlement. Read on for her story, and find all of our Wild + Wise profiles here.
Twice a week from April through September, you can find Li Wah Lai digging into the gardens at the High Line, a public park elevated above the streets on Manhattan's West Side. She began volunteering there four years ago, when a friend introduced her to the yearly spring cutback program. She says, "I started volunteering one March, cutting down old foliage so the new plants could emerge. I really loved the work, and was asked by a master gardener if I could continue to help out through the summer season." Over the years, Li Wah has found more and more to love about the High Line.
"In a city where it can be hard to find green, being outside, 30 feet above the ground, in a garden on the High Line is wonderful. I get lost in the world of horticulture."
She adds, "I'm there in all sorts of weather – I especially love when it's raining because it's so peaceful. To top it all off, I get to meet people from all over the world! It's so inspiring to meet people from across the globe who stop by to ask questions. They want to know how the garden functions, names of plants, how many volunteers are here…it gives you such a good feeling to answer all those little questions." At home in Manhattan, Li Wah grows her own sky-high garden on her rooftop. She says, "We have a few small trees and a lot of weeds. Weeds are my friends now, they spread quickly -- I love green!"
When she's not in the garden, Li Wah is often making art -- both on her own and with others in the community. A graphic designer for 30 years, she is now retired but continues to do printmaking, as well as drawings and collage pieces. Her latest works incorporate old photographs from her childhood with her drawings and prints. Her background in the arts inspired her to start volunteering at the The Creative Center at University Settlement, a social service agency that provides resources for immigrants. There, she assists with art workshops for cancer survivors. She says, "My mom is a breast cancer survivor, and I wanted to give back in some way. The workshops offer ways for people to express themselves with a community of people and to help them know that they are not alone. We don't talk about cancer -- the workshops give them a break from what they're going through. It lifts their spirits, and mine too."
When describing her family, Li Wah tells us, "I feel so fortunate—I have a terrific husband and two caring sons, a wonderful daughter-in-law, and I live in the best city in the world! My parents were born in China and I grew up in New Jersey. We have many relatives still in China and travel to visit them often. Until this year, my mother – who is 91 – would return to take care of my grandmother, who just passed away at the age of 110. I thank my lucky stars every day."
Who inspires you?
Li Wah says, "There are two women who inspire me. First, my Mom. She got married in 1948 and came to America from China thinking the roads were paved in gold. My Mom and Dad had very little money and had to borrow money to buy her an overcoat when they arrived by boat. She came from a large family and when she had children, they were alone without her family helping them. She had four children in a small town in New Jersey ands spoke very little English. I give her so much gratitude for being strong and surviving through such loneliness. She did not have a network of family, or women to talk to. When I was young, I couldn't understand what she was going through. But now I see that she had to dig deep into her body and her spirit to get through those difficult years. I'm inspired by her willpower and inner strength.
"My mother-in-law, Phoebe, is another powerful woman who inspires me. She worked all her life, and she showed me how to balance out work and family life, and to enjoy what you have. She was a super woman and encouraged me to look to the future, expand in my career, and be a strong woman. She had an amazing assortment of plants in her porch and that was the first time I fell in love with nature. I think of her often and am so thankful she was a part of my life. Without these women, I would not be who I am today."
High Line Photography Credits: Steven Severinghaus & Iwan Bean
Find all of our Wild + Wise stories here, or tell us about the Wild + Wise women in your life on Instagram! Tag your photos of them #terrainwildandwise, and we'll celebrate them and all of you by sharing a few favorites on Mother's Day.
You May Also Like: