Wild + Wise: Fatu Gayflor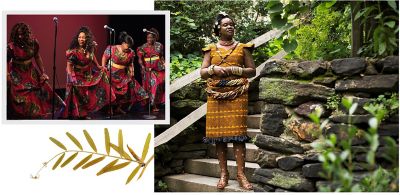 This Mother's Day, we're celebrating all of the amazing women in our lives with profiles of six women who have inspired us. The group includes Liberian singer Fatu Gayflor, who escaped civil war in her country and now uses music to help fellow immigrants in her adopted home of Philadelphia. Read on for her story, and find all of our Wild + Wise profiles here.
Born in northwestern Liberia, Fatu Gayflor began singing when she was just 10 years old, performing traditional Liberian music at festivals near her village. She says, "I was so young that sometimes people would put me on their shoulders so they could see me while I sang!" In 1978, a visitor from Kendeja, the home of the Liberian National Cultural Troupe, visited her village in search of young talents. Fatu says, "I started dancing on my own, and the scout asked the people in the village, 'Who is that little girl dancing over there?' Another group of girls was preparing to dance, and so the villagers said, 'Don't be bothered by that child!' But the woman wouldn't be deterred."
The scout encouraged Fatu to come back to Kendeja with her, but Fatu's mother was reluctant to let her go, saying her daughter was the only help she had. Her grandfather, the village chief at the time, agreed that this was a valuable opportunity for Fatu and their family; he was able to change her mother's mind. And so, Fatu moved to Kendeja at just 12 years old. She eventually became a singer in the cultural troupe, learning traditional songs from Liberia's 16 ethnic groups. She remained at Kendeja until 1985, then founded her own successful ensemble, Daughters of King N'Jola.
Known as "Princess Fatu" in her home country, she found great success after leaving Kendeja, recording albums that paired traditional songs with modern arrangements. Fatu says, "I became very popular in Liberia, and then civil war came to the country. In 1990, I went to the Ivory Coast to record another album, and war erupted while I was there. My husband at that time stayed behind with our son, who was not even two years old. He was captured and my son was lost; we've never known what happened to him."
Unable to return to Liberia, Fatu remained as a refugee in the Ivory Coast, traveling to U.N. refugee camps in the region to sing. At a performance, she met a businessman who wanted to introduce her music to America. She launched her album, Awoya, in 1998 during a tour of the East Coast that included Philadelphia. Though she has returned to Africa in the years since, she now calls the Philadelphia area home, as do thousands of other Liberians who fled during the civil war.
Fatu says, "After being in Philadelphia for so many years, I decided to pull a group together, and founded the Liberian Women's Chorus for Change with support from the Philadelphia Folklore Project. It's a group of women that's for women; our goal is to inspire awareness and action regarding issues in the Liberian immigrant community here, especially domestic abuse. We perform to encourage Liberian women to speak out -- to talk about what abuse can do and share resources so these women can help themselves. Because they know us, they are willing to tell their stories."
As a part of the chorus and on her own, Fatu performs and teaches regularly in the Philadelphia area. In 2014, she received a Pew Fellowship in the Arts. When asked to describe her music, Fatu says "My music is based on traditional Liberian folk songs, but played with modern instruments." She also hopes that her music can offer a new perspective on Liberia.
"I want Americans, and the whole world if possible, to know about Liberian music and folk songs. I want Liberia to be known as something more than a country of corruption -- to show the world another side of my country."
Who inspires you?
Fatu says, "Kormassa Bobo, a Liberian dancer here in Philadelphia, is the kindest person I know from our country. She was the first Liberian to work with the Philadelphia Folklore Project, and introduced the rest of us to the project. Everything we've gained today, and what we see coming, is because of her. Liberians wouldn't be who we are today in Philadelphia without her."

Photography credits: Top left & below: JJ Tiziou, with permission of the Philadelphia Folklore Project. Top right: Ryan Collerd.
Find all of our Wild + Wise stories here, or tell us about the Wild + Wise women in your life on Instagram! Tag your photos of them #terrainwildandwise, and we'll celebrate them and all of you by sharing a few favorites on Mother's Day.