A Wild Arrangement with Faux Stems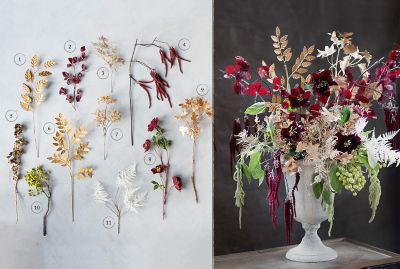 1. Embossed metal beech stem 2. 3. Preserved Plumpsa fern bunch 4. Faux crimson Amaranth spray 5. Faux golden blossoms spray 6. Metal ash leaf stem 7. Faux metallic delicate spray 8. Faux burgundy Hellbore spray 9. Faux metallic Maple leaf spray 10. Faux green berry bunch 11. Faux asparagus fern spray
Once autumn truly gets under way–the bright blooms have fallen off their stems and the vibrant leaves have fallen off their branches–we turn to our collection of metal stems and preserved botanicals to create floral arrangements to last the season. This year, we're gravitating towards full arrangements that are moody and wild. It's an elevated, distinctive take on tradition that's feels unexpected and fresh (even if the stems are faux). We chatted with our stylist Adelyn D. to learn why she sometimes prefers working with faux and preserved stems, when she knows when an arrangement is "done," and how she came up with this design.

terrain: We love this arrangement–it's festive and moody in a really unexpected way. Can you talk to us about your design process?

Adelyn: This arrangement was definitely more holiday focused, so with that in mind, I was thinking deep reds, golds, and whites with pops of green here and there. I think that the deep reds always create this moody essence and I loved the way it mixed with the gold stems. I also felt that the galvanized vessel added to the overall feeling–something a clear glass vase couldn't accomplish.

terrain: What are some tricks you've picked up when working with faux stems rather than fresh ones?

Adelyn: I always feel like I'm at a slight advantage when working with faux stems because you can bend and manipulate them how you want! I almost always end up cutting or dismantling faux stems to many different lengths and pieces depending on where I want them to be the arrangement. Tying some of the stems together with floral wire can help keep more of the structure together if the floral foam or chicken wire isn't holding them steady enough. It's always good to bend the stems and leaves in different directions, or pull them out away from the stem so that the stem/shape feels more natural and organic to that of a real flower stem.

terrain: How do you know when an arrangement is complete?

Adelyn: Such a tough question! I think for me, I just know when I know! But I guess I'm always just taking a step back - even out of the room - and come back with fresh eyes and see if it feels balanced and cohesive. I like to have the right amount of "height, filler, and spiller" with certain arrangements and with this one, I wanted it to be dramatic, wild, and slightly over the top but together at the same time. I even went to add more to this arrangement, but it just didn't feel right, so at that point I knew it was the way that I wanted it!
Looking for more arrangement inspiration? Be sure to check our our blog posts on centerpiece trough arrangements, DBT fall container plantings, and a foraged fall arrangement.
You May Also Like: