What's Blooming in California
It's official -- spring is here! To celebrate the arrival of our favorite season, we asked friends from around the country to share what spring looks like in their region. First up is Alexandra Sklar, stylist, product developer and founder of Merchant Home, with a blooming tour of California's central coast. Read on to see Alexandra's favorite flowers from Wilder Ranch State Park, Henry Cowell Redwoods State Park and the Santa Cruz Sandhills, and stay tuned in the coming weeks for more springtime tours.
Alexandra says, "We moved to the foothills of the Santa Cruz Mountains in the midst of the wettest, most dreary January in decades, and spent our first few weeks here semi-trapped along the coast due to landslides and flooding, the only spot of color coming from the lemon tree in the backyard. Then one day, unexpectedly: the sun came out in full force, warming the hills and the damp air with the potential of spring; shortly thereafter (and also with full force), the green hills became speckled with color, and the trees began to bud."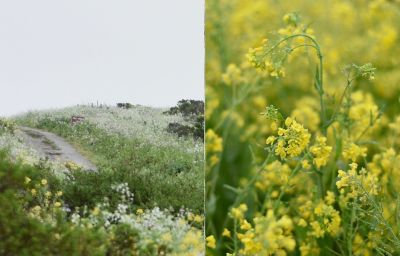 "What has struck me most about my first spring here is the shock of yellow. I feel like I am surrounded by it. Our lemon tree still hangs heavy with fruit and our hillside looks like a carpet of chartreuse sourgrass (oxalis). Along our drive home, flowering acacia branches drape over the roadway like a bright yellow tunnel. Beside the coast, mounding wild mustard seems to extend all the way to the ocean."
"After a few weeks, the color is fading and everything is becoming more green as the flowers recede. Our neighborhood park is coated in ferns and vibrant moss laying beneath the redwoods. Late-blooming fruit trees are beginning to flower in the yard, as the quince and magnolia recedes. Just today, I spotted a cluster of orange California poppies along the road and noticed the milkweed and fennel starting to come up atop the coastal bluffs, signs that more of the warmth and light of spring awaits us."