We're Open in Palo Alto!
Earlier this month, we opened the doors to our second West Coast location, at Anthropologie & Co. in Palo Alto, CA. Just in time for holiday shopping, the newest terrain offers a capsule collection of our favorite home and garden finds alongside Anthropologie and BHLDN shops. It's also home to our third Terrain Cafe, serving a seasonal, locally-inspired menu from Chef Marc Vetri. We're thrilled to share some images from our Grand Opening party, and can't wait to welcome new friends in Palo Alto throughout the holiday season. Find our hours and location here to plan your visit, and read on for our party highlights plus more from the store!
"Our first few days in Palo Alto were a tremendous success, buzzing with energy from customers and our amazing store team. With some chilly and rainy days, lots of folks headed to terrain to escape the weather. It was great to receive such a warm welcome in Palo Alto, with visitors commenting, 'This is my new happy place!' and 'Terrain is just what we need in this area!' Our holiday items have been a big hit so far, with favorites including weathered metal ornaments, fresh and faux greens, Stargazer lights, and living gifts from our Design by Terrain team." - Jess M., Terrain Shop Manager at Anthropologie & Co.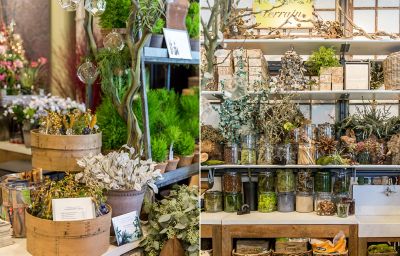 "It was wonderful to meet so many excited customers at our opening in Palo Alto -- lots of visitors said they'd like to live at terrain! Everyone was thrilled to finally shop in person after browsing online for many years. I met one couple who had previously lived near our Pennsylvania store, and they were so happy to have terrain in California! One of my favorite parts of the new store is the welcoming display of outdoor furniture and planters. Customers were drawn to the windows to take a closer look at our classic teak furniture and beautiful container plantings from Design by Terrain." - Beth B., Managing Director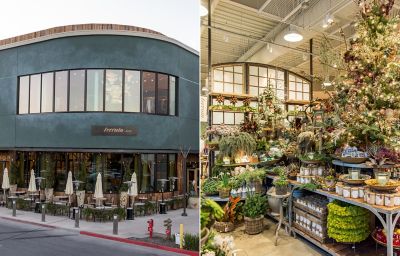 "The store looked magical at the opening party, like a winter wonderland! The space is filled with so much natural sunlight during the day, and the large windows were a showcase for sparkling Stargazer lights and festive Christmas trees after dark. Every corner was decked out with holiday cheer, and the air even smelled like an evergreen forest thanks to lots of fresh cut stems and our favorite fir candles. It was wonderful to greet so many excited visitors with a glass of champagne and treats from the cafe. There was a great energy in the store, plus oohs and ahhs all night from our customers!" - Diane S., Events Manager