The Wellness Pantry: Turmeric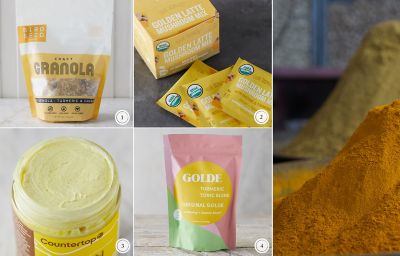 Earthy, aromatic, and brilliantly hued, we love using turmeric for its myriad health benefits and delicious taste. A long-time staple of Indian and Asian cooking, turmeric contains curcumin, an antioxidant-rich compound long thought to reduce inflammation both internally and externally. Believed benefits of this beloved spice include clearer skin, decreased joint and muscle pain, along with better brain function and balanced blood sugar levels. We've been stocking our pantry with turmeric products to help promote wellness - read on for our four favorite picks.

1. Bird Seed Turmeric + Ginger Granola: Gluten free and brightly flavored, this granola pairs turmeric with a mix of sweet and spicy bits like crystallized ginger, coconut shreds, pumpkin seeds, cranberries, and cashews. A healthy update to your traditional breakfast and delicious as a topping to yogurt, ice cream, and salads.
2. Four Sigmatic Golden Latte Mushroom Mix: Support healthy skincare from within! Creamy, lightly sweet, and dairy-free, this organic golden latte mix is formulated with a delicious blend of antioxidants and adaptogens to help keep skin hydrated, balanced, clear, and glowing.
3. Countertop Golden Butter: With a lightly whipped texture and fragrant, spicy-sweet taste, Countertop's Golden Butter is packed full of antioxidants, omegas, vitamins, and nutrients. Use as an alternative to traditional butter and spread it on toast, pancakes, or even to saute veggies and scramble eggs. Try baking it into muffins, as a unique topping for popcorn, and add to soup bases to add flavor.
4. Golde Turmeric Tonic Blend: A nourishing blend of turmeric, coconut, and ginger, this tonic powder helps boost your skin's radiance, reduce inflammation, fight bloat, and promote overall well-being. Add it to smoothies, tea, coffee, or water.

Be sure to browse our entire selection of food products for a well-rounded pantry refresh.
Thumbnail credit: Jon Connell
You May Also Like: