Lavender Ice Cream Sandwiches with Weckerly's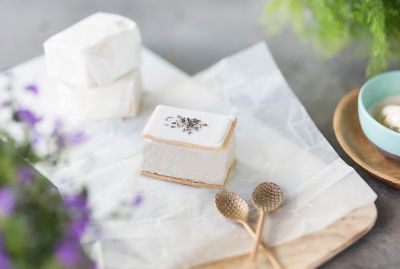 Lavender season is upon us, and with it comes an abundance of those beloved fragrant blooms - but what to do with the inevitable excess? Once you've dried a bunch for your doorstep and gifted bouquets to friends, we're here to suggest using the purple pods in your food. More specifically, giving lavender ice cream a try.

We collaborated with our friends at Weckerly's Ice Cream, to come up with a subtly sweet, richly creamy lavender ice cream sandwich. Owners Jen and Andy Satinsky, are as committed to locally-sourced, ethically-raised ingredients as we are, and they inherently understand how to make fresh flavors sing. It wasn't long before the bars disappeared from our office freezer, but we've got all the details on the crowd-pleasing treat from Jen below.

"Whether it's a vanilla bean or an obscure flower, Jen says she tries to "keep in mind that it's all food - whatever I'm making should be something that provides people with enjoyment when they eat it!" For a savory flavor like lavender, she "thinks first about what flavors pair well with it, then I consider how concentrated we want the flavor to be, how that will resonate with customers."

For the terrain lavender ice cream sandwiches, Jen used milk from Camphill Village Dairy, a Chester County farm that "provides purposeful lives for adults with developmental disabilities," Jen shares. These cows are on pasture for the whole day which results in a grassy milk that lends itself well to the lavender flavor. She says they also added "some wild violets from our friends at Green Meadow Farms for a touch of color and a boost to that spring flavor profile."

If you're wondering what other flavors Jen likes to pair with lavender, she says it "pairs really well with chocolate, citrus, and fresh berries. You can't beat a glass of lavender lemonade and seltzer water! But my personal favorite use for lavender is seasoning a really good steak. I mix the dried petals with rosemary, thyme, and sea salt and use it as a rub before grilling." Grilled steak and ice cream sandwiches - sounds like our idea of a perfect summer evening.
Want to try lavender ice cream for yourself? Weckerly's will have lavender ice cream sandwiches on the menu throughout the season!
You May Also Like: