A Simple Lunch in Weck with Jar Salads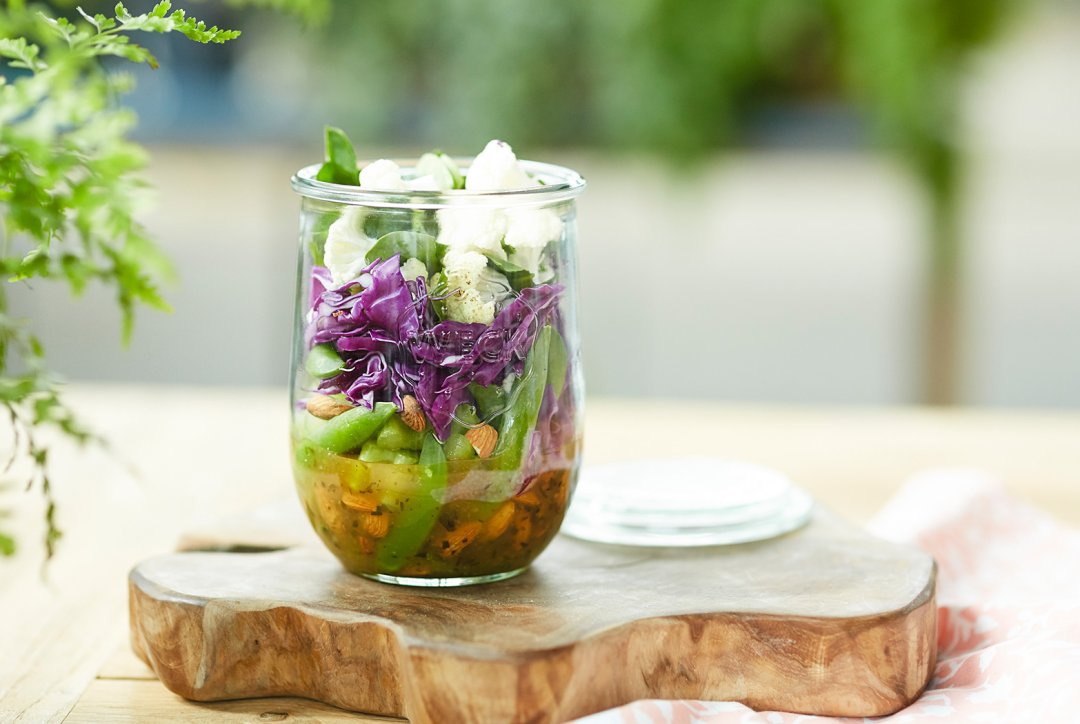 As we welcome 2018, we're heading into the kitchen with a collection of recipes intended to refresh, renew, and restore. For the third edition of our clean eating series, we're turning to one of the most vibrant cookbooks on our shelf: Jar Salads. The first book from Australian food writer Alexander Hart, Jar Salads features 52 creative and flavorful salad recipes--one for every week of the year. If you've made any resolutions regarding healthy eating this January, these beautifully-layered salads are sure to brighten your lunch hour. Best of all, they're intended to fit perfectly in a 1-liter jar for easy preparation, travel, storage, and serving. We paired our favorite salad--a citrusy combination of roasted cauliflower and snap peas--with our favorite Weck jar for a workday lunch packed with color and flavor. Read on for the recipe.
Lemony Roasted Cauliflower & Sugar-Snap Pea Salad
Makes one 1-liter jar
Lemon vinaigrette
2 tablespoons extra-virgin olive oil
1½ tablespoons lemon juice
1 teaspoon lemon zest
½ teaspoon superfine sugar
½ teaspoon dijon mustard
Salt & freshly ground black pepper
Mix together.
Sugar-Snap Peas
3½ oz sugar-snap peas
Blanch in boiling water for 1 minute, drop in ice water. Drain.
Roasted Cauliflower
3½ oz cauliflower, cut into small florets
Mix in a bowl with:
¼ teaspoon minced garlic
1 teaspoon olive oil
1 teaspoon lemon juice
Salt & freshly ground black pepper
Once coated, tip onto a baking tray and roast in 400°F oven for 20–25 minutes, turning occasionally, or until cooked. Allow to cool.
Other Ingredients
1 oz toasted almonds, roughly chopped
1 celery stalk, sliced
1¾ oz red cabbage, finely shredded
Handful of torn mint, to fill
Layer salad from base:
Lemon vinaigrette
Toasted almonds
Sugar-snap peas
Celery
Red cabbage
Roasted cauliflower
Mint
Recipe from Jar Salads by Alexander Hart (Smith Street Books). Copyright © 2016.
You May Also Like: