5 Ways to Style the Circle Taper Holder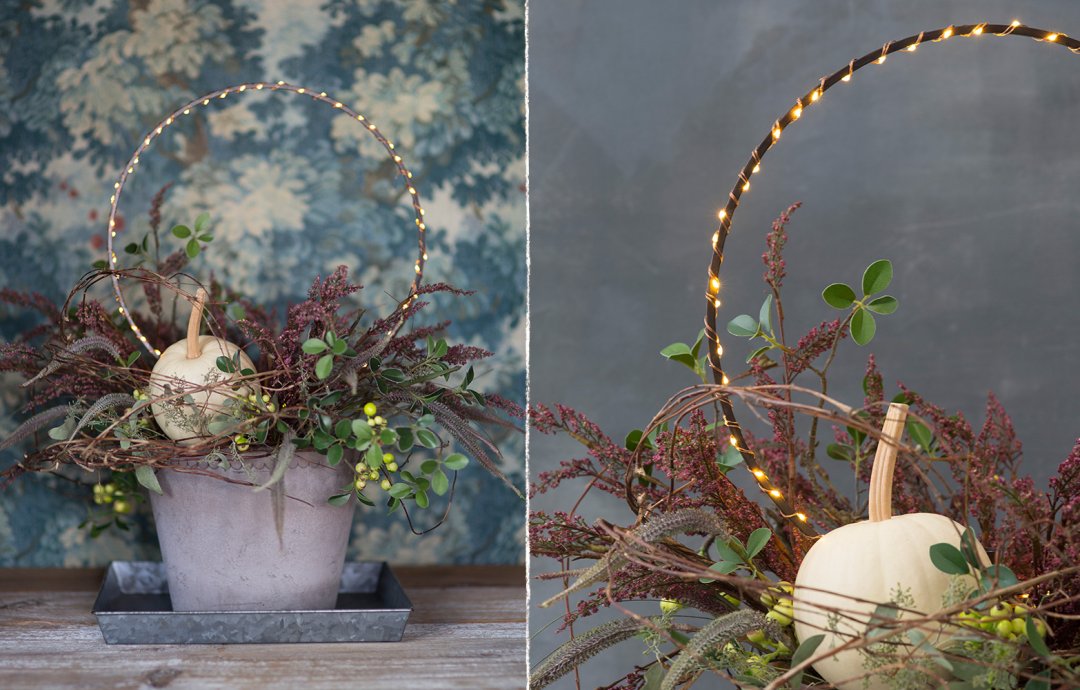 Newly arrived for fall, two circular taper holders are proving to be the season's most versatile accent pieces. Standing in a marble base or suspended from above, they offer countless ways to brighten the tabletop and entryway, or serve as the centerpiece for an evening get-together. These simple circles are designed to be decked out in lights, garlands and faux botanicals, making them showstopping additions to the autumn home. Read on to find five ways we're styling our Circle Taper Holders this fall.
A seasonal addition to the table or entryway, the fall planter above begins with the Standing Circle Taper Holder. We started by wrapping its frame with a strand of battery-powered Stargazer lights, then placed the taper holder into a Købenler pot. Next, we wedged floral foam around the base of the taper holder to hold it in place and create a foundation for a collection of faux and foraged stems. Finally, we arranged a grapevine wreath loosely around the rim of the pot, then filled it with a mix of faux heather, foraged finds from the garden, and a petite pumpkin.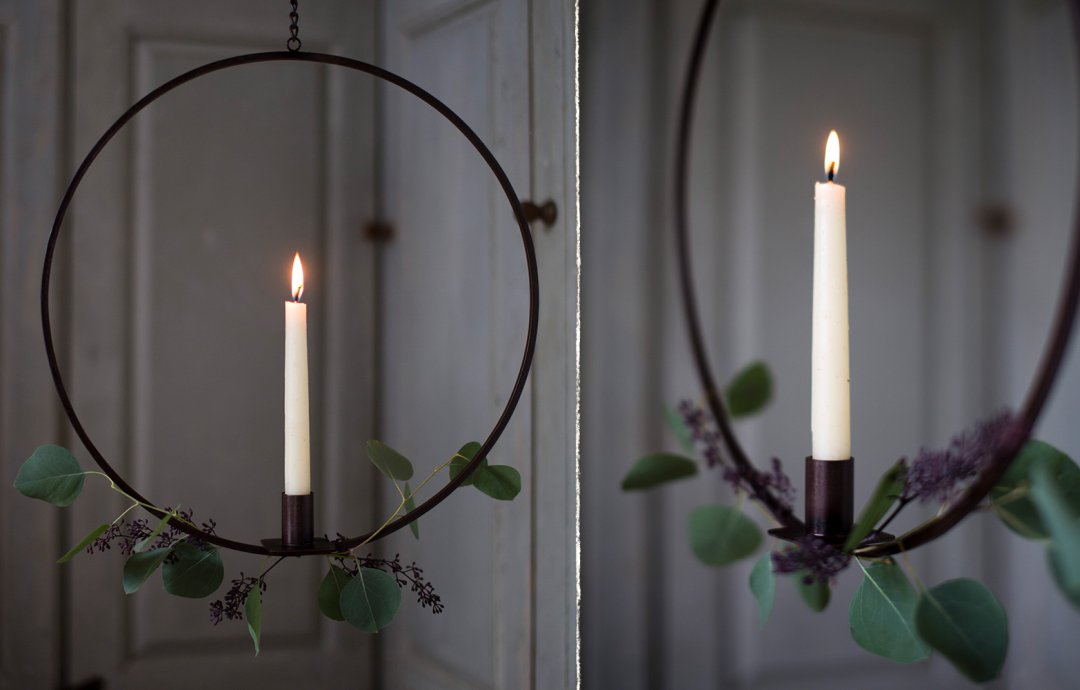 Beautifully minimalist, the look above lets a glowing taper candle take center stage inside the hanging circle. To keep the candle firmly in place, we added a dab of adhesive into the taper cup. We attached a few sprigs of fresh seeded eucalyptus with floral wire, and will update the greenery as the seasons change.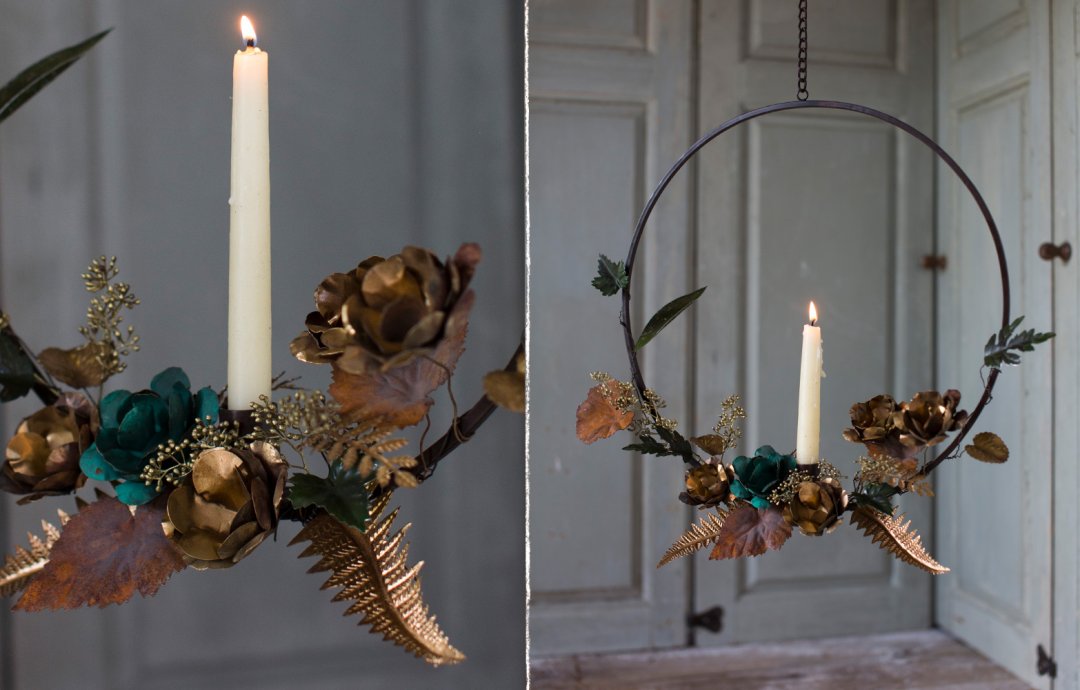 A mix of metallic florals and foliage decks out the hanging circle in another understated look, which starts with a single taper candle. We mixed pieces of several metallic garlands, winding them around the lower half of the circle. To complete the look, we gathered some foraged sprigs from the garden and painted them gold before tucking them among the metal blooms.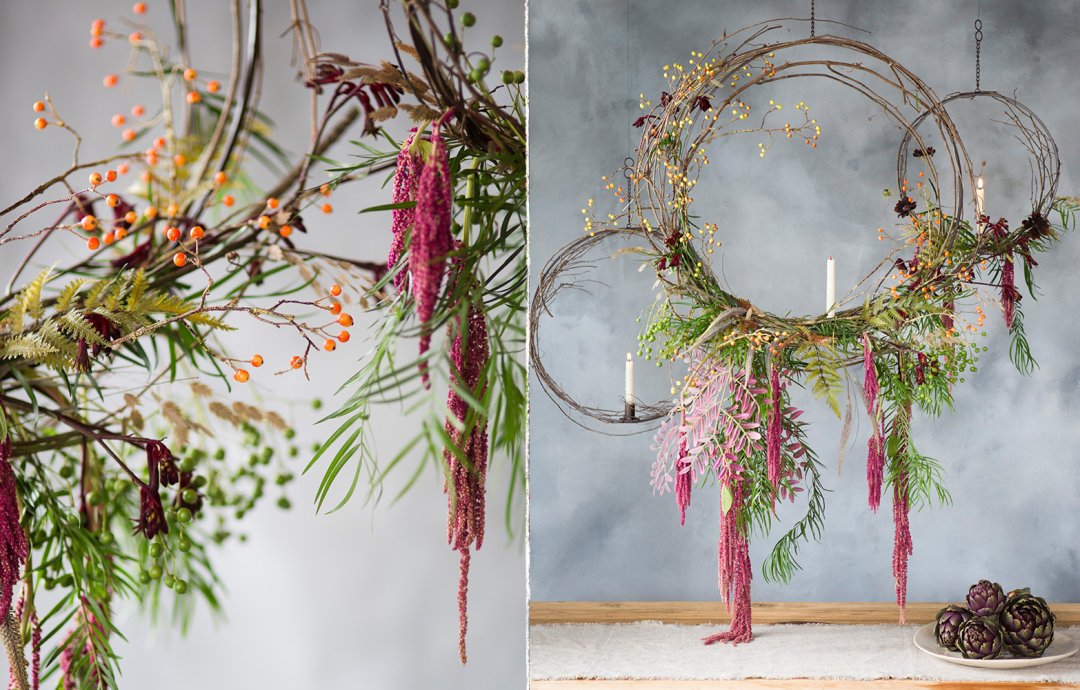 For our final look, a trio of hanging circles showcases the best of autumn's fresh and faux foliage. To start, we separated pieces from a grapevine wreath and tied them loosely around each circle. Working from the center of the bottom ring to establish a focal point, we added a mix of faux and foraged botanicals. We used fresh amaranth, China berries, pawpaw branches and pepperberry leaves, plus dried sea oats, faux sumac, and faux berries in autumn hues. Below, we swapped the taper candles for a strand of Stargazer Cascade Falls Lights, which were separated into a few sections then woven around each circle, with the ends trailing downward to highlight the hanging florals.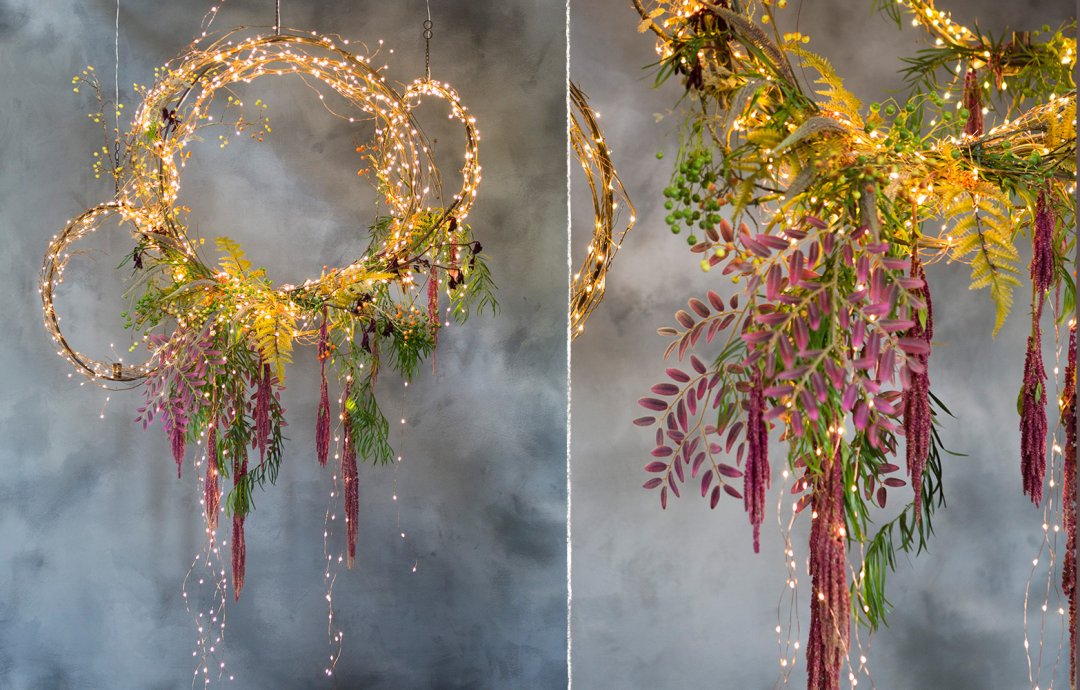 You May Also Like:

Edit: Not pawpaw branches (Asimina triloba)- I think the author meant Kangaroo Paw branches/seedpods (Anigozanthos manglesii)