Valentine's Day Terrariums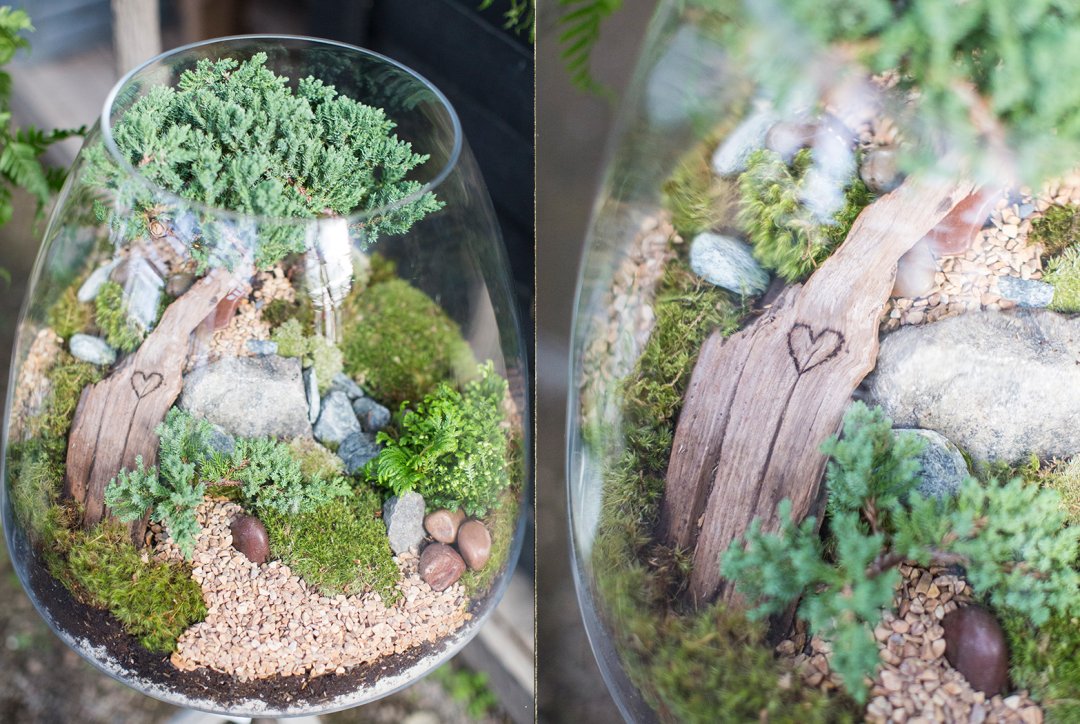 Longer-lasting than a traditional bouquet, terrariums are one of our favorite gifts to surprise your sweetheart. As Valentine's Day approaches, Styer's is fully stocked with a variety of seasonal gardens under glass; we recently caught up with Kaitlin D. from Design by Terrain to learn more about each look. She says, "This season, we're showcasing the spirit of Valentine's Day into our terrariums with a variety of natural elements. Some incorporate subtle heart designs made with accents like rocks or driftwood, while others feature red and pink color stories developed with moss and plants. Our goal is to allow the natural beauty of the terrarium to shine, while still offering a sweet nod to Valentine's Day."
(above) This extra large terrarium is filled with tiny evergreens for a nod to bonsai style. Kaitlin says, "We planted this terrarium with two bonsai junipers and a variety of selaginella. The vibrant, textural selaginella is mixed with cushion moss, stones, and clump moss to form a hilly landscape that showcases the tiny trees. A wood-burned heart on a piece of driftwood adds a whimsical Valentine's Day touch."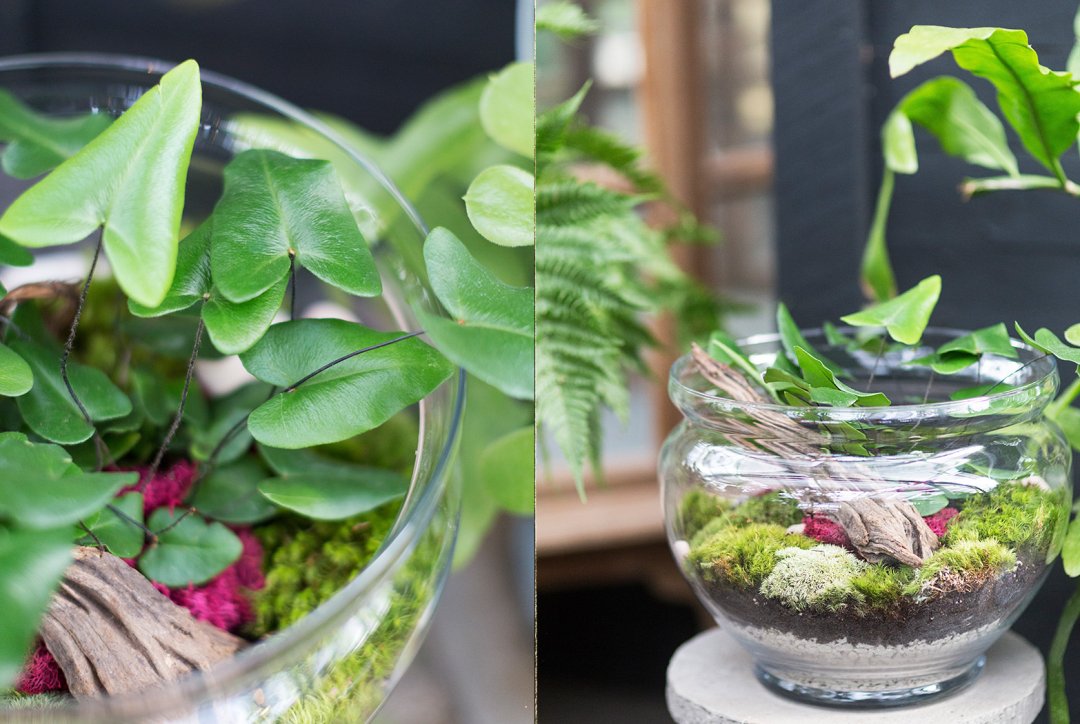 "This glass bowl is planted with a heart fern, preserved pink moss, cushion and clump moss, and stone," says Kaitlin. "The unique shape of the heart fern directly references the holiday, which is emphasized by a pop of pink from the moss below."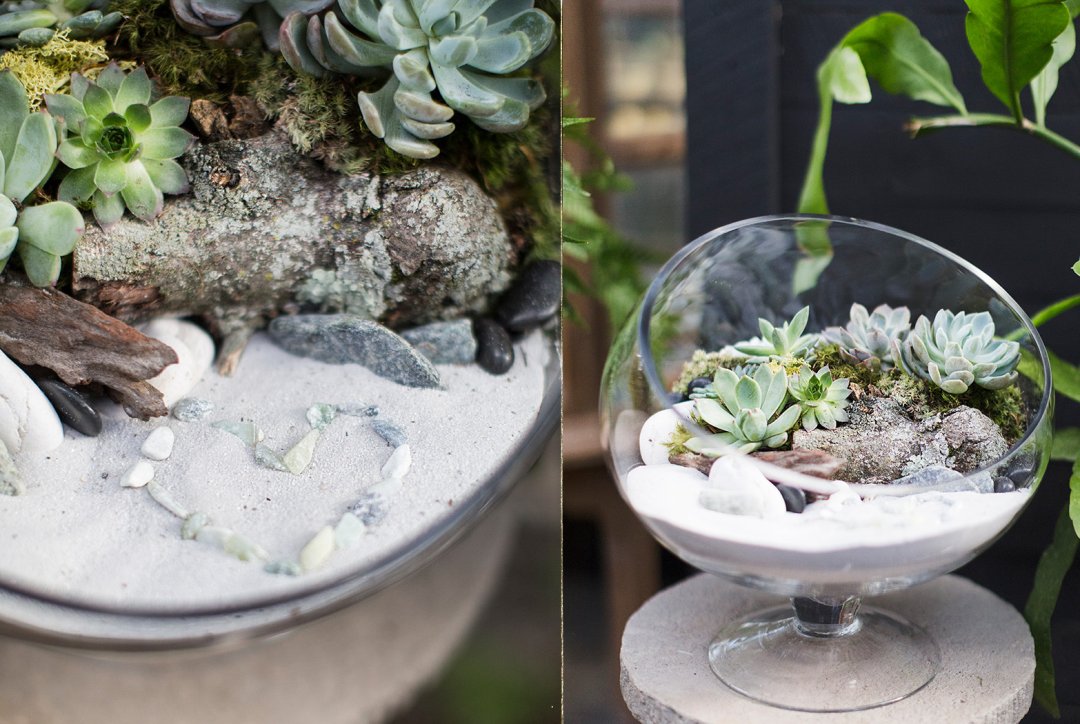 "This open-topped terrarium is planted with a variety of succulents, lichen-covered driftwood, clump moss, dove gray sand and stone," Kaitlin tells us. "The succulents are the immediate focus of the arrangement, but a closer look reveals a heart made from tiny jade pebbles in the sand below."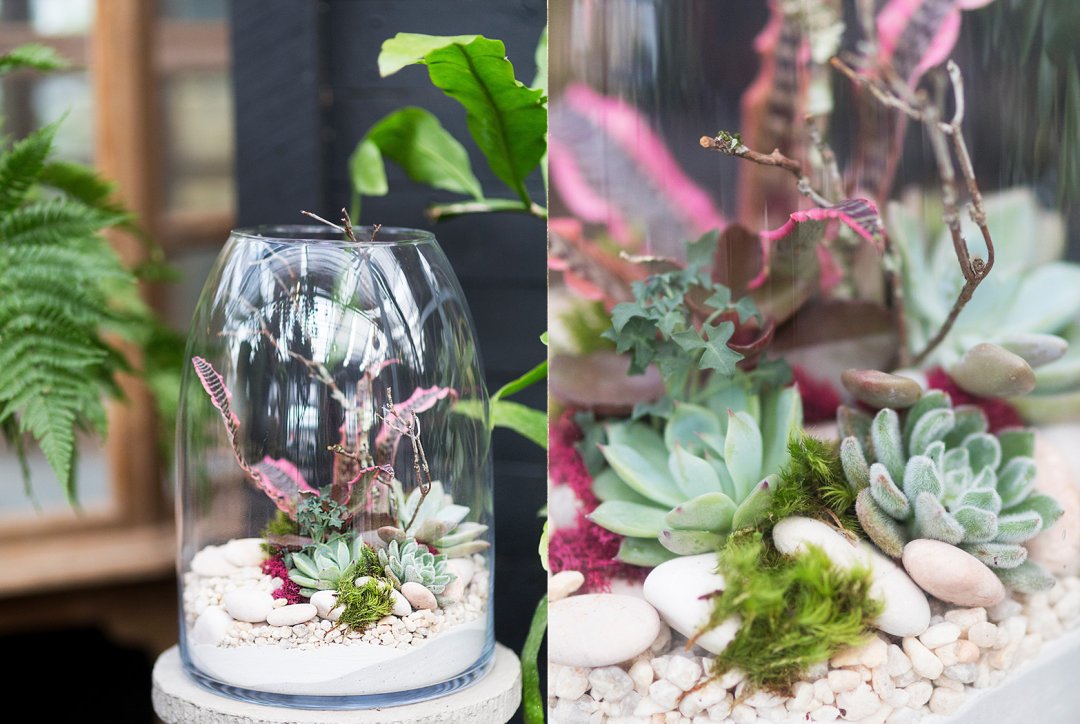 Kaitlin says, "A bright pink Bromeliad crypanthus is the centerpiece of our final terrarium, surrounded by a massed collection of tiny succulents below. The naturally vibrant color of the Bromeliad provides a focal point for the planting; it also merges nicely with the surrounding components thanks to scattered tufts of dark pink preserved moss in a base of rocks and sand."
Find our Valentine's Day terrariums and more gifts from Design by Terrain in stores throughout the month of February.
You May Also Like: