A Valentine's Day Cocktail for Your Cherie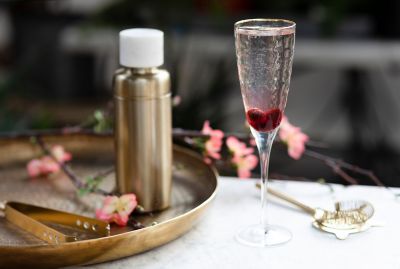 There's no lovelier way to celebrate your sweetheart on Valentine's Day than with a cocktail that's refreshing, festive, and with just a hint of warm chocolate. Our always-creative beverage director Steve Wildy came up with a cocktail that hits all those points and comes in with a low alcohol content, which makes it perfect for a weeknight cheers.

Ma Cherie Cocktail
.75oz white creme de cacao (Marie Brizard)
.75oz orange liqueur (Cointreau, Grand Marnier, Patron Citronge, Triple Sec)
.5oz lemon juice
Shaken and strained into a flute, topped with Prosecco (3oz)

Steve says, "this is a fun way to incorporate chocolate into a cocktail for a festive Valentine's Day spritz without venturing into cloyingly sweet dessert drink territory. The richer aromatics of orange and chocolate suggest sweetness up front but are offset nicely by the brightness of Prosecco and fresh lemon. Garnish with an amarena cherry to complete the assorted chocolate sampler vibe!"

Feel like dining out this Valentine's Day? Make a reservation at your local Terrain Cafe and feast on your favorite dishes from our a la carte menu!