A Sweetheart Champagne Cocktail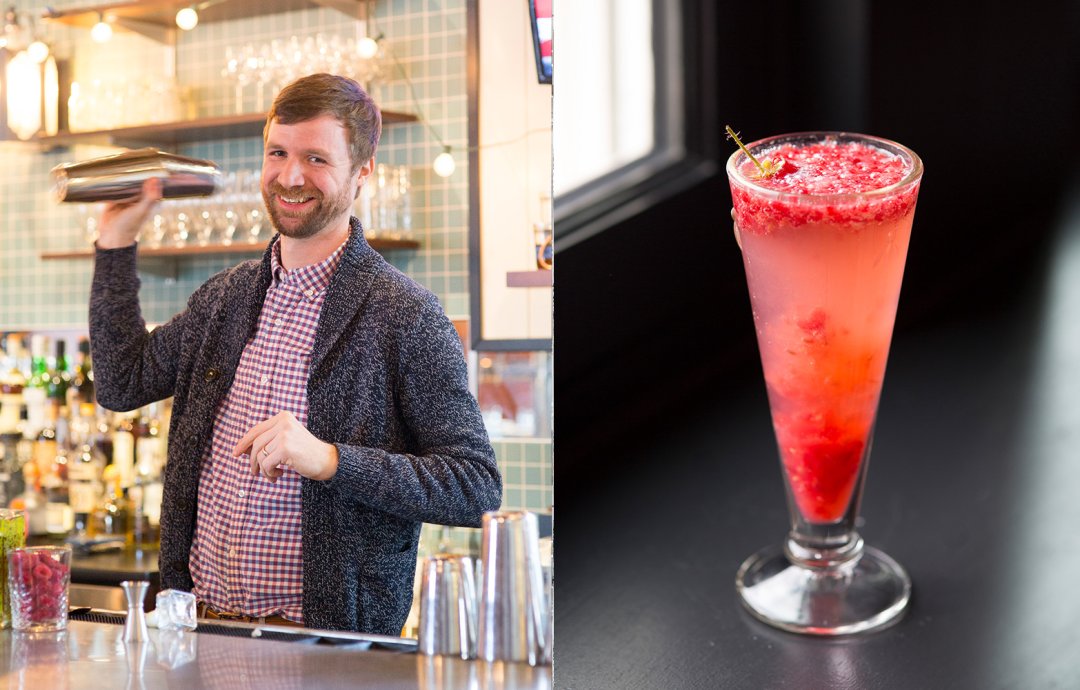 We're preparing to play bartender this Valentine's Day with a new cocktail recipe courtesy of Steve Wildy, Beverage Director for Vetri Family restaurants. He recently joined us to mix up the sparkling champagne cocktail above, which is perfect for a Valentine toast. Dotted with jewel-toned berries, this rosy drink balances fruity sweetness with the unexpected flavors of ginger and absinthe. Steve shares the recipe -- for two or a crowd -- below.
He says, "The Lampone Verde is essentially a Raspberry Bellini with a slightly gingery kick and a unique, herbal finish from a touch of absinthe. It's great for entertaining, because a large batch can easily be whipped up in a blender, or it can be made as an individual drink. I've included instructions for both below."
Lampone Verde
Fresh Raspberries
Ginger Liqueur (prefer Canton)
Absinthe (prefer Vieux Carre or Wigle)
Simple Syrup
Lime Juice
Prosecco (Brut for less sweet)
Single cocktail: Chill your ingredients in the refrigerator before you start. Muddle 5 raspberries in a cocktail shaker with a splash of absinthe, then add 0.5 oz. each of simple syrup, ginger liqueur, and lime juice. Shake without ice and pour into a champagne flute, martini glass, or cocktail coupe. Top with 4 oz. prosecco while stirring with a spoon.
Blender (serves 10-12): The day before serving, chill all your ingredients in the refrigerator. Blend a half pint (approximately 50-60) raspberries on low until all the fruit is pulverized down to just the seeds. Top with 5 oz. simple syrup, 5 oz. ginger liquor, 5 oz. lime juice, and 2 oz. absinthe (or to taste, as absinthe can be quite bold for some). Continue to blend on the slowest setting as you add one and a half bottles (approximately 40 oz.) of Prosecco. Serve in a champagne flute, martini glass, or cocktail coupe.
You May Also Like: