5 Trailing Plants for Hanging Baskets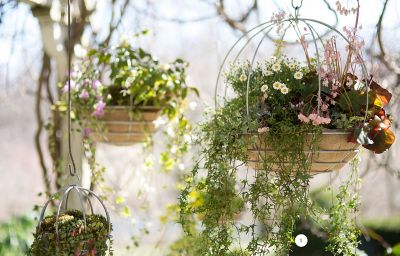 Our favorite hanging baskets are returning to the porch for spring, and we've filled them with fresh plantings to welcome the season. This year, we're embracing the dramatic shapes of trailing plants. Draped over the edge of a suspended basket, long tendrils of greenery and flowers create striking silhouettes that enliven our outdoor spaces. Read on to learn more about the plants in each basket.
1. House Ivy (Hedera helix): An assortment of house ivies provides the trailing element for a large basket. Native to Europe and western Asia, these shade-loving evergreen vines grow quickly as a climbing plant or groundcover. Here, tiny white daisies and dark begonia foliage offset the shapely vines with distinctive, five-lobed leaves.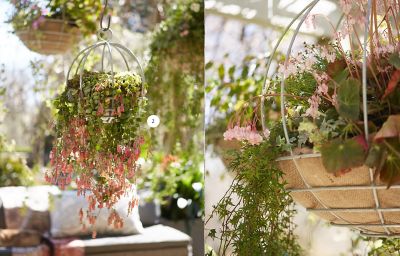 2: Chandelier Plant (Kalanchoe manginii): Named for the shape created by its elegantly draped stems, this hardy succulent makes a standalone statement in a hanging basket. Native to Madagascar, Kalanchoe manginii features long-lasting, bell-shaped flowers in a vibrant salmon shade. Ideal for a sunny porch, this succulent prefers bright light and warm temperatures.
3. Verbena (Verbena canadensis): Blooming from late spring through the first frost, verbena is a low-maintenance option for continuous color. Its trailing blooms provide a spill of vibrant purple in a planting of begonias and variegated ivy. Rich in nectar, its flowers will attract hummingbirds to your hanging basket. Here, it's paired with the striking foliage of dragon wing begonia, which offers glossy, wing-shaped leaves.
4. Variegated Ivy (Hedera helix 'Variegata'): Like house ivy, this rambling vine provides a dramatic silhouette when placed at the edge of a hanging basket. The white markings of variegated ivy are caused by a lack of chlorophyll in areas of the leaf; this means that the plant is more sensitive to sunlight and will thrive in filtered sun or shade.
5. Jasmine (Jasminum mesnyi): Also known as primrose jasmine, this delicate climber is native to Vietnam and southern China. It takes the spotlight in a small hanging basket thanks to cascades of vivid, chartreuse foliage, which is accented by fragrant, bright yellow flowers in early spring.