A Triple-Tier Succulent Centerpiece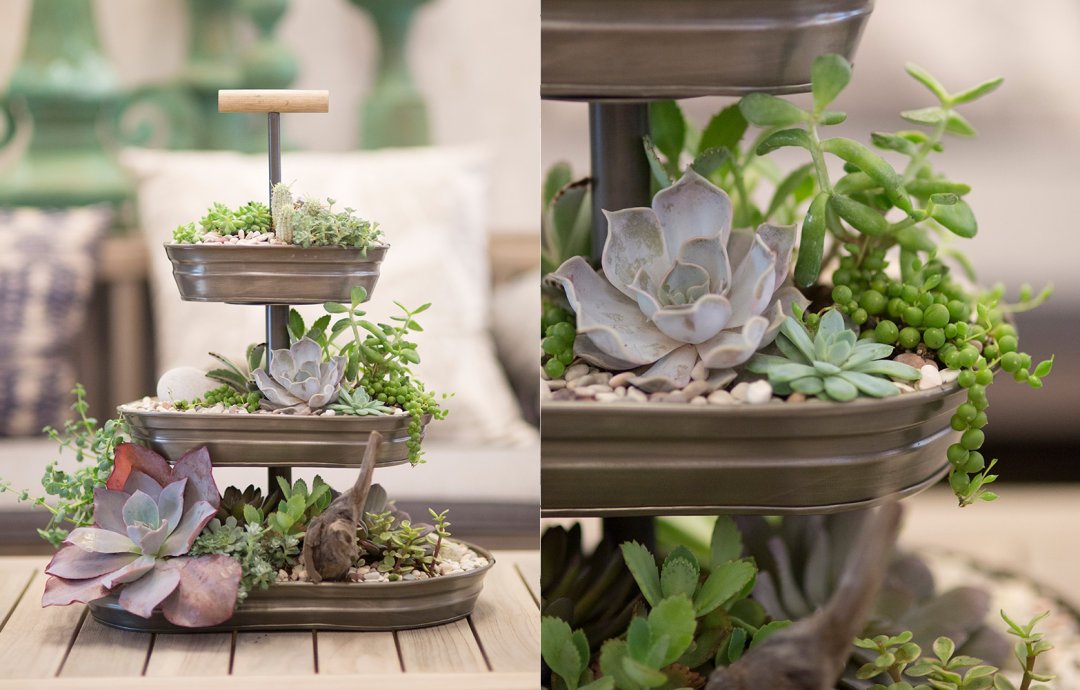 A fresh focal point for the summer table, the three-tiered centerpiece above makes its home in one of our newest serving pieces. We repurposed a triple-tier tray made from galvanized iron as a tall planter to showcase a colorful collection of succulents. Accented with smooth pebbles and weathered driftwood, this low-maintenance planting can serve as a living centerpiece for indoor and outdoor spaces alike. Best of all, a wooden handle makes it easy to transport from dining room to patio. Stylist Alli M. shares her planting tips, below.
Alli says, "Start by selecting an assortment of succulents in varying sizes, shapes, and colors. I chose a palette of blue and pink specimens that serve as focal points against a backdrop of bright greens. Before planting, fill each tier of the tray with 1" of drainage medium -- this step is important because the tiers don't have drainage holes. On top of the drainage medium, add 2-3" inches of succulent and cactus potting soil. Now you're ready to plant your succulents! Once the planting is complete, cover any exposed soil with pebbles. You can also add some larger stones and pieces of driftwood to enhance the summery vibe of the planting."