Thanksgiving Fireside Cornbread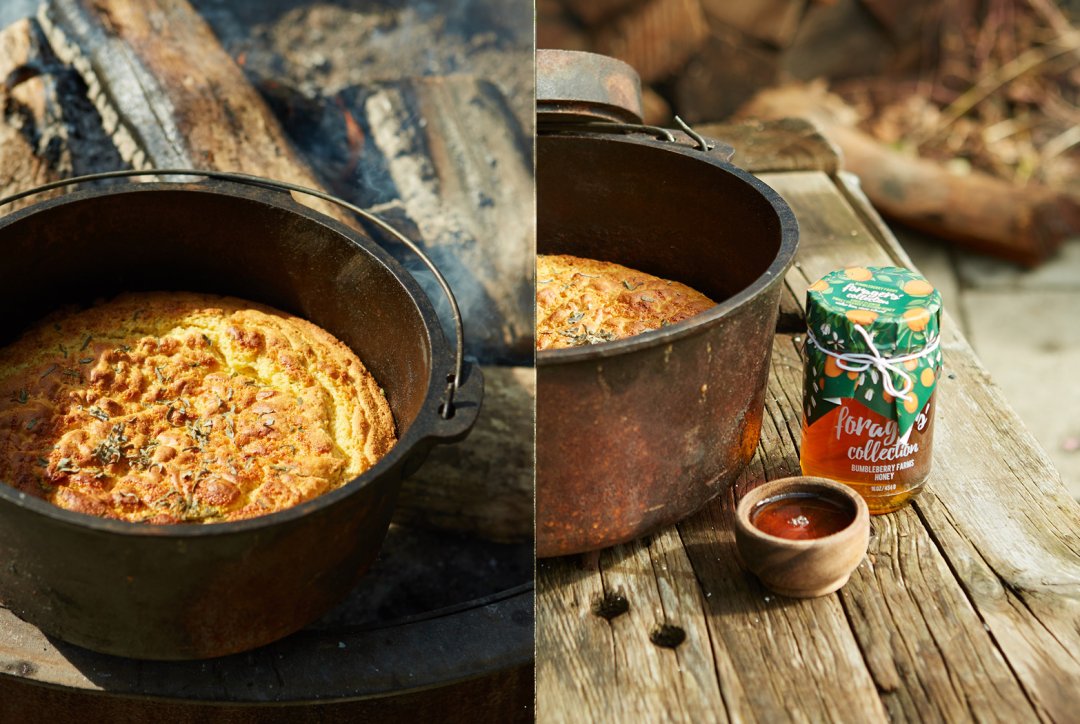 For this year's Thanksgiving celebration, we're planning an afternoon gathering beside the fire before dinner gets started. While we're enjoying the outdoors, we'll also be baking a Dutch oven cornbread to serve alongside the meal -- right in the fire pit! Ryan Bloome, Executive Chef at the Garden Cafe, shared his recipe for the hearty cornbread above, flavored with fresh sage and honey from BumbleBerry Farms. We recently joined Ryan at Styer's to bake a batch in his own Dutch oven, a family heirloom that's seen generations of camping trips. Read on for the recipe.
Dutch Oven Cornbread
1/2 lb. unsalted butter, melted
3/4 cup sugar
3/4 cup honey
4 eggs, room temperature
2 cups buttermilk, room temperature
2 cups all-purpose flour
2 cups cornmeal (we used an heirloom variety from Happy Cat Farm)
1 teaspoon salt
1.5 teaspoons baking soda
Fresh herbs, finely sliced (we used sage)
In a large bowl, mix sugar, flour, cornmeal, salt, and baking soda. In a separate bowl, mix butter, honey, eggs, buttermilk, and herbs. Pour the buttermilk mixture into the cornmeal mixture and fold together until there are no dry spots.
Start a fire and let it burn down to coals for at least an hour, preferably two. A large fire pit is helpful, as it allows you to keep a small fire going to create more coals while the Dutch oven is in another part of the pit. Elevate the empty Dutch oven around 6" above a substantial pile of coals -- large stones work well for this, as they won't burn and cause the bread to tip while cooking. Allow the Dutch oven to heat for a few minutes, then melt a small amount of butter at the bottom.
Pour the batter into the center of the melting butter; this will push the butter across the surface and up the sides of the vessel. Put the lid onto the Dutch oven and scoop a pile of coals on top. (Make sure you leave room to access the handle with a hook, so you can check on the bread periodically.) Keep the base and lid surrounded with warm coals, avoiding open flame or extremely hot coals so the bread cooks evenly without burning at the edges. Avoid moving the coals too often, as this tends to increase the heat. Check on the bread every 5 minutes until done, about 25 minutes total. If it appears to be cooking too quickly, move the Dutch oven farther away from the heat source. Once baked, serve with a drizzle of honey.
Notes: Depending on the size of your Dutch oven, you may need to increase the recipe. This one required a 1.5x batch of the recipe above. To make the cornbread in a traditional oven, bake at 375°F. Warm the empty Dutch oven first, and follow the instructions for adding butter before pouring the batter.