Terrain In the Company of Women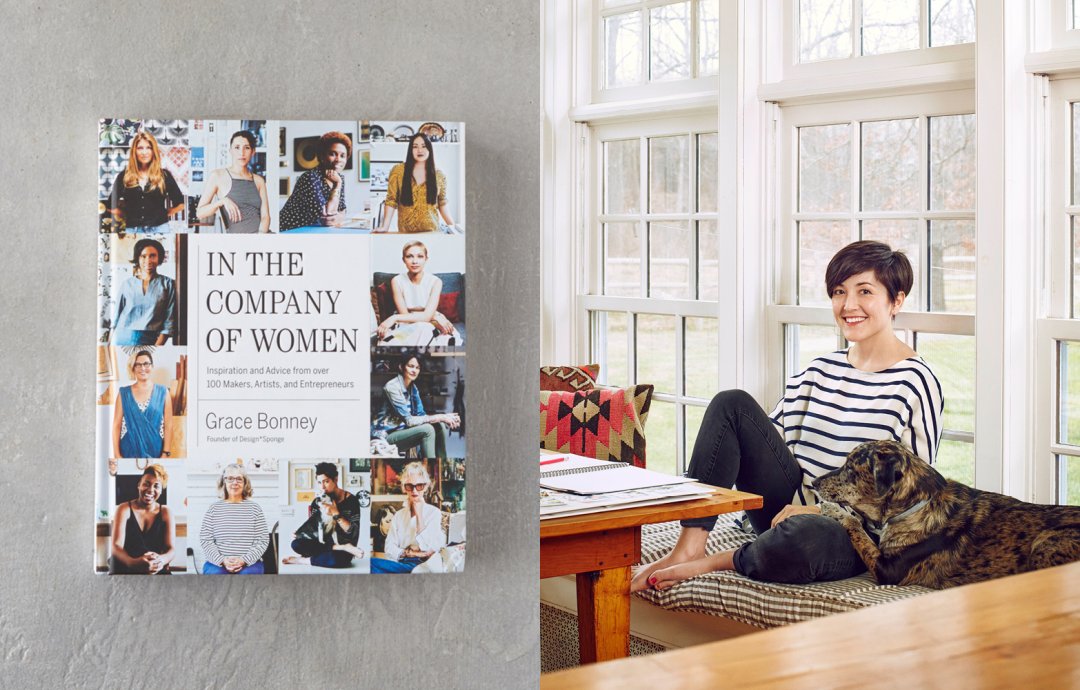 New on our bookshelf, In the Company of Women is an inspiring celebration of creative women, featuring 100 profiles of artists, makers, and entrepreneurs from across the globe. The volume's interviews and insights were curated by Grace Bonney, a longtime friend of terrain and the founder of Design*Sponge. One of the book's featured artists is also a terrain favorite: Connecticut potter Frances Palmer. Recently, we asked Frances if she'd turn the tables and interview Grace. The resulting conversation was full of surprises, heartfelt moments, and creative inspiration. Grace and her wife Julia Turshen, author of the new cookbook Small Victories, will join us in Westport for a joint book signing at the Holiday Open House. Stop in from 1-3P on Saturday, November 19 to take home a signed copy of In the Company of Women, and read on for a lively conversation.
Frances: First, I want to say congratulations on the amazing success of In the Company of Women!
Grace: Thank you for being a part of it, Frances!
Frances: I've been a reader of Design*Sponge from the beginning, and I've enjoyed hearing your voice evolve. Who was an early female role model for you, and what factors shaped your direction early on?
Grace: My earliest professional role model was Elizabeth Peak, who taught me printmaking at William & Mary. She still works and teaches as a printmaker in Virginia. As her student, she would pull me aside and fill my arms with books about designers, especially female designers. She really nurtured my interests in a way that's never left me. After I had a disastrous senior critique, she told me that I had a great eye – I could be a part of the creative community, even if I wasn't going to be an artist. That's something that I try to pass on as advice today; I was maybe 19, and it had a big impact on me.
Frances: It must have been such a disappointing moment, but she turned it into a positive.
Grace: It was rough! I recently reconnected with her, to send her a copy of the book and say thank you. She said she remembered that brutal critique, and she was so glad that her advice had helped. I thrive when someone says I can't do something – I'm just overwhelmed with the desire to prove them wrong!
Frances: Once you were out of school, what were your first steps?
Grace: Nothing art related! I was a print major in college, but I also had a radio show; I couldn't decide between music and art. After school, I got a job at a record label. It ended up being the worst job ever. The music industry wasn't for me! My next job was at a design PR firm, and I started Design*Sponge during that time as a lunchtime hobby. Eventually, I took another job at House & Garden and kept the blog going. If I'd had that job later, the magazine probably would have asked me to close the blog. But I got to keep working on it, and the magazine job was a true crash course in publishing.
Frances: I'm always struck by your ability to bring questions, fears, and social injustices to light – and to articulate them so beautifully. When reading some of your recent posts, I've found myself feeling "I think that, too!" Where do you feel that your courage to speak comes from?
Grace: My natural reaction is to say that I don't remember a time when I didn't feel comfortable speaking, but that's not true. The answer is twofold. First, a decade working on the internet, with its blunt disagreements and negative feedback, helped me realize when it's worth speaking out and when it's not. As I got older, I saw that it's worth speaking out about social justice, and the big issues of life and work. Not discussing them is way more painful. Also, I realize how lucky I am to do what I love; it pays my bills, keeps a roof over my head, and allows me to have a happy, healthy family. It's my job in that position to use the platform I have and speak out for those who don't have that ability. To share that platform with people coming from a more marginalized background. That's why I didn't want to do a lot of introductions in the book – I wanted people to speak in their own voices.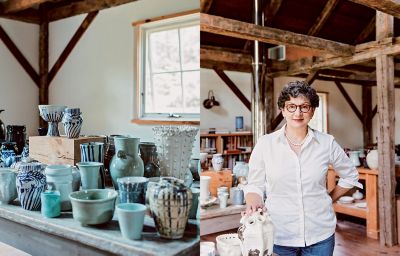 Frances: That leads into my next question. You traveled the country while writing In the Company of Women, and then again for a series of amazing symposiums with your subjects. I attended the one in NYC and seeing everyone in person, giving background to the page, made each person's stories so real. Could you share one discovery from all of your interviews that really stands out?
Grace: On tour for the book in the last few weeks, I learned how few safe spaces exist for women to speak on vulnerable topics. There's such swift retribution in being vulnerable online, but being in person creates a circle of safety – a space of non-judgement and support where you can speak openly, ask questions, cry, just let it all out. That blew me away! I assumed these things existed and I just wasn't attending them. These experiences were so moving, and they changed the course of what I want to do with my work going forward. I love facilitating these moments, connecting people of all ages, backgrounds, and disciplines. I learned how crucial it was that people meet face to face.
Frances: So true! Now that the tour is wrapping up, what are you doing to recharge?
Grace: A whole lot of nothing, as much as possible! Both Julia and I are not good at downtime – she's shaking her head at me right now. We feel more comfortable with a deadline. So, we're encouraging each other to stop, unplug, focus on self-care. Taking time to sit down, make a fire in the fireplace, or take a bath. Terrain is a happy place for me, so I plan on bringing some indoor plants home after the Holiday Open House. Not because we need more, but because they make me happy. In the winter, I like having things to take care of, and caring for plants is a simple way to start the day.
Frances: Last question – what's next for you in 2017?
Grace: I'm definitely going to embrace print next year in a fun way – I've always wanted to produce something printed on a more regular basis. I'll keep the event series going in some way, too. I want to continue to embrace being around women, discussing business and life every day.
Photos excerpted from In the Company of Women by Grace Bonney (Artisan Books). Copyright © 2016. Photographs by Sasha Israel.