7 Tabletop Tree Looks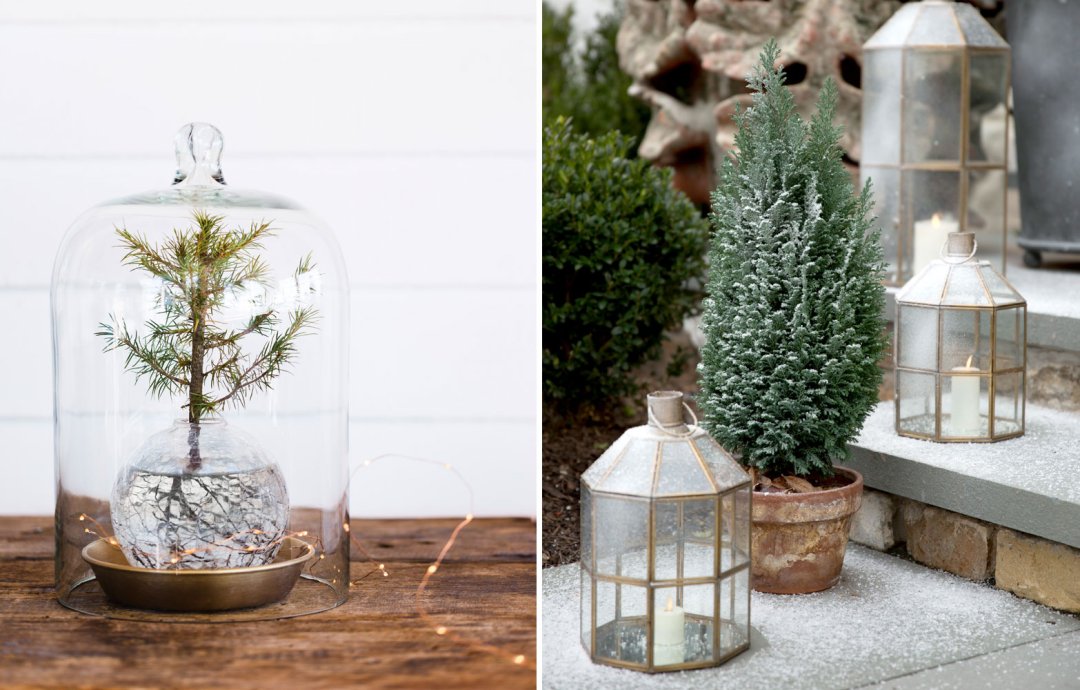 Though a full-size fir is the star of our holiday home, tabletop trees are adding good cheer to spaces indoors and out. We've gathered our best-loved looks for tiny trees of all kinds -- fresh cut, faux, and topiaries alike -- to see how these diminutive firs can be used all around the house. Read on for favorite ways to display a tabletop tree.
1. A Cloche Centerpiece: A tiny evergreen cutting rooted inside a glass bauble makes a simple centerpiece for the Christmastime table. We added a sleek glass cloche for elevated appeal, plus a polished copper tray and strands of light for festive sparkle.
2. Greens & Glass Doorstep: A fresh topiary in a terracotta flower pot brings a glimpse of green to the doorstep, surrounded by brass windowpane lanterns that light the way for holiday visitors.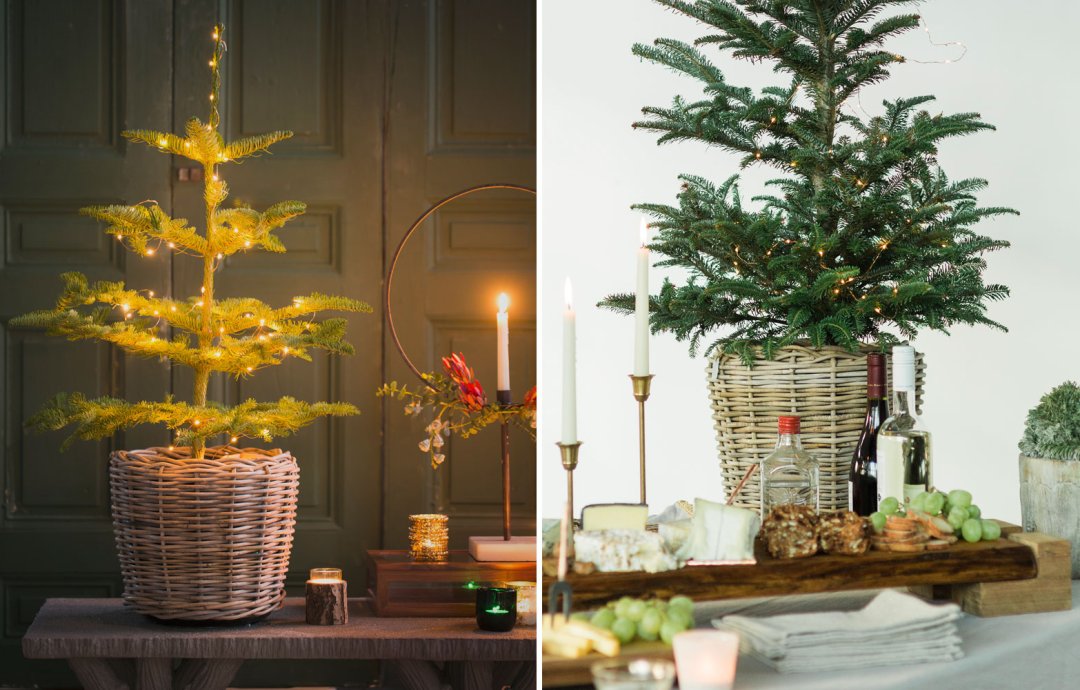 3. Set to Celebrate: A fresh-cut Fraser or natural Noble fir in a water-tight basket makes a merry addition to the buffet or sideboard. We love it as the centerpiece of a candlelit console, or as a large scale accent for the wine and cheese spread at Christmas cocktail parties.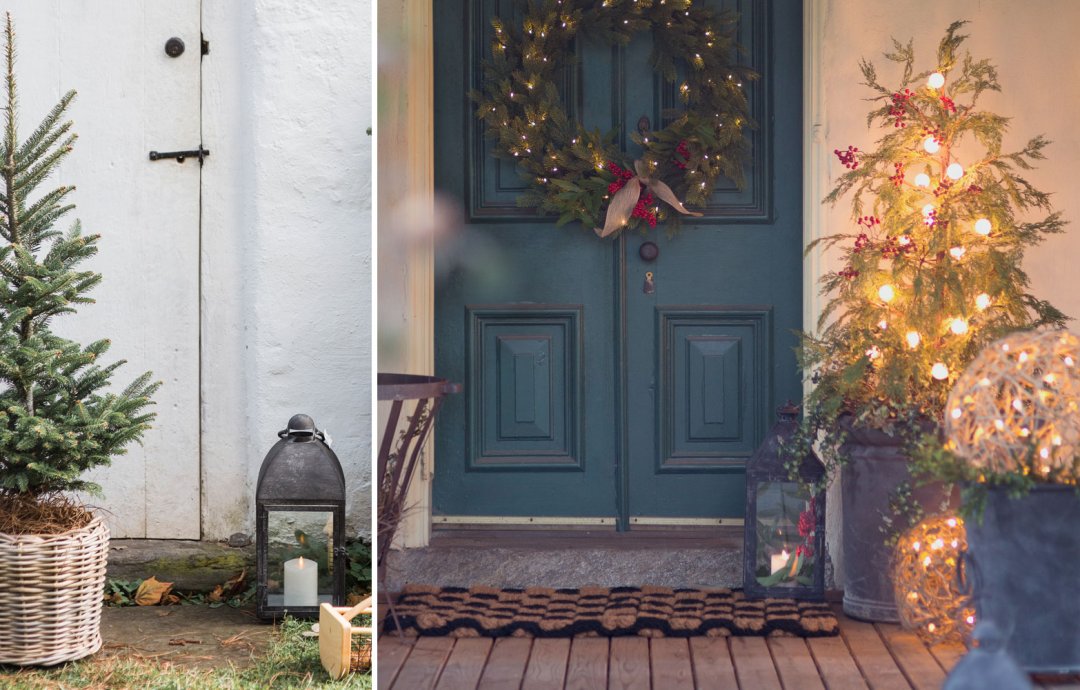 4. Greens at the Garden Shed: Add an unexpected touch of cheer to the winter landscape with a tiny tree near the garden shed door. An old-fashioned lantern completes this simple yet charming vignette.
5. A Front Porch Forest: A shaggy specimen from the winter woods pairs with one of our favorite planters for a green and glowing doorstep. The tiny tree is decked out in globe lights and faux berries for added cheer. An illuminated wreath of faux evergreen boughs, a pair of lighted topiaries, and a candle at the door make for a warm, welcoming scene.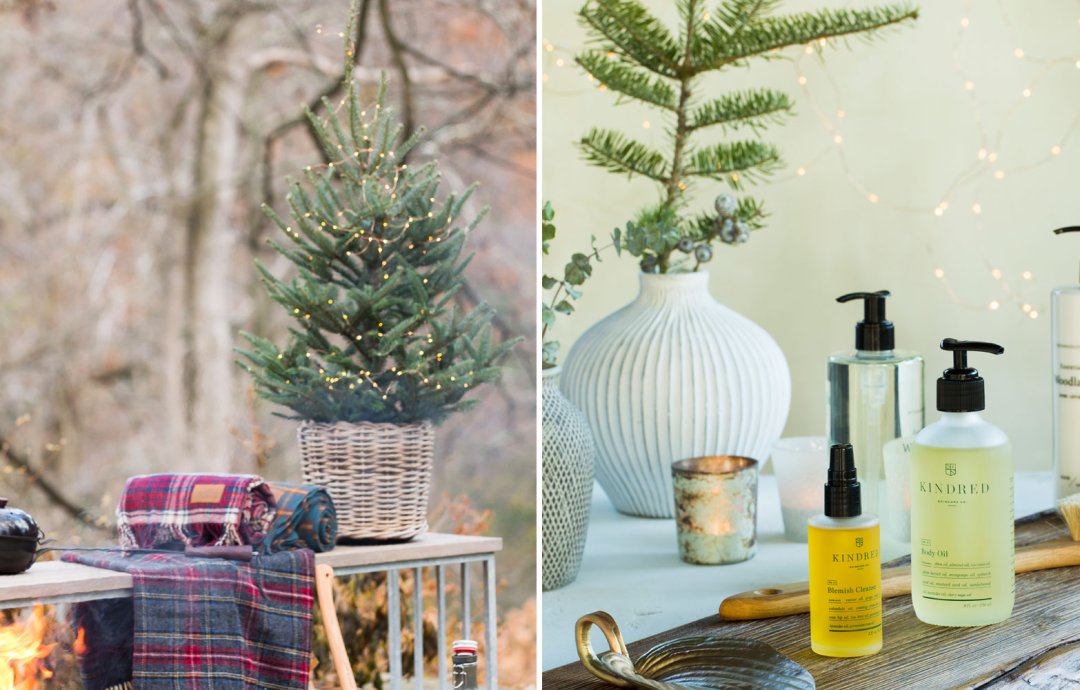 6. The Fireside Fir: On winter evenings, head to the fire pit with mulled wine, marshmallows, and a tiny Fraser fir covered in Stargazer lights. The tree makes for a cozy scene in even the chilliest temperatures, complemented by warm woolen throws.
7. The Winter Spa: Add a foraged evergreen branch in a simple vase to transform the bath into a serene spa. The branch provides a fresh fragrance, as well as an anchor for loosely wrapped lights that give off a holiday glow.