Late Summer Weeding Tips with Roots Landscape Design
They're every gardener's greatest frustration - weeds. From persistent ground ivy to the common dandelion, weeds are bound to intrude on even the most meticulously planned garden. To help us keep a weed-free garden through fall, we tapped Nate T. from our friends at Roots Landscape Design to give us a few of his pro tips.

1. Stay vigilant. "It sounds simple, but it's always better to be proactive rather than reactive. During the late summer in the northeastern part of the country, we tend to get a lot of heavy downpours and thunderstorms. This is great for our lawns and gardens, but it's also helps weed germination and mushroom growth. By making sure you follow the pre-emergent application schedule and spot checking your garden weekly, weeds will find it difficult to sprout and their growth will be kept to a minimum."

2. Plant new flowers with weeds in mind. "When you install new plantings, it exposes fresh soil - buried and new weed seeds love fresh soil to sprout in," so try not to disturb the soil when you start to dig. "Try to choose new plants that spread naturally, but can easily be pruned if needed. Plants like liriope, black-eyed susans, ferns, and hostas either self-seed naturally or spread through their root systems."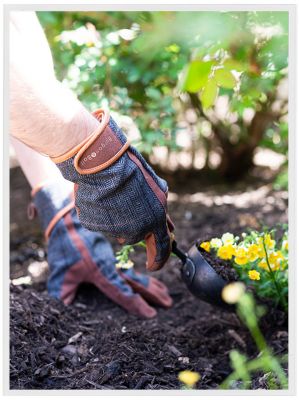 3. Gear up! "We have been seeing a lot of stubborn weeds in the last few years, especially one called Canada Thistle (Cirsium arvense). They have become perennials in this area and are prickly - making it painful to remove them. Always wear gloves when pulling weeds!"

4. Use newspaper as a weed barrier. "Before mulching, lay newspaper in your planting beds and then mulch over it. This prevents new weeds from growing, allows water to percolate through, and decomposes over time. Also installing a finer aggregate mulch like triple ground mulch or leaf matter every year helps to control weeds from spreading."

5. And as for what NOT to do? "We've seen people install thick fabric within their planting beds. If it's not a fabric that allows water to percolate through, it will not allow the landscape plants to receive enough water. Also, if you feel you need to spray weed killer, please follow the manufacturer's directions exactly. We see a lot of client spray weed killer incorrectly and get it on other plants damaging them.

"We often say there's no such thing as 'no-maintenance' garden," Nate says, but by following a few simple steps, there's no reason yours can't be a low maintenance one!