Summer Souvenir Terrariums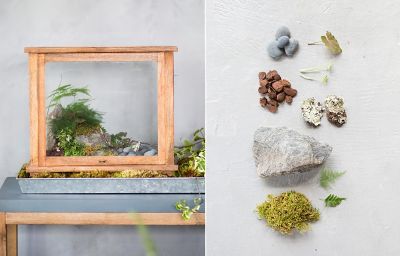 As we enter the final weeks of summer, we're looking back on some of our favorite vacation memories. This year, we're preserving the season's souvenirs with travel-inspired terrariums. Displayed under glass, these natural mementos will serve as a beautiful reminder of our happiest summer days. We asked three terrain travelers to share a few objects from their recent vacations, and created a trio of terrariums inspired by the beach, mountains, and desert. Read on to learn more about each look.
Endless Mountains, PA: "I fell pretty fast for my husband, but I think I decided to marry him the day I first laid eyes on the cabin his great, great grandfather built on a tiny lake in the Endless Mountains, near the Pennsylvania-New York border. Growing up, he spent time swimming, fishing, and catching frogs there every summer, and now we do the same with our kids. There's no internet, no TV, and only spotty cell service. In other words: there's nothing to occupy you but nature, and it's a dream. I always end up bringing a few treasures back -- dried flowers or ferns my son 'discovered,' a handful of twigs and stones my daughter collected on a walk, or a pinch of moss from the stones down by the lake. Pulling them all together in a terrarium helps me keep a little piece of the cabin nearby all year long." -- Cat K., Communications Manager
Cat's specimen case terrarium in a metal tray is filled with foraged rocks, moss, and lichen from the mountains. Asparagus fern, rabbit's foot fern, and fittonia are planted in a base of tumbled river rocks and bark to create a forest feel.
Abiquiu, NM: "While in New Mexico earlier this year, I visited Georgia O'Keeffe's home and studio as well as Ghost Ranch, where she spent a lot of her time before moving to Santa Fe. It was amazing to see the desert landscapes that inspired her, which look almost exactly like her paintings! Her home and Ghost Ranch are located in Abiquiu, a tiny town outside Santa Fe. I would recommend a visit if you're headed to New Mexico, and loved gathering some of my desert mementos in a tiny terrarium landscape inspired by O'Keeffe paintings." -- Melissa M., Web Merchandiser
Melissa's modern, geometric terrarium starts with a layered base of two-tone sand, topped with foraged bone and pebbles from the desert. It's planted with an echeveria that mirrors the saturated colors of Georgia O'Keeffe's paintings.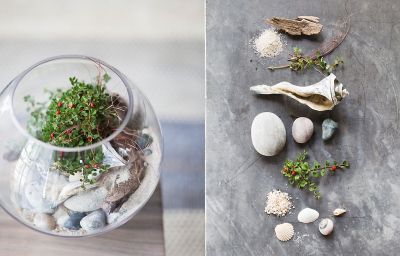 Block Island, RI: "Every summer, my brothers and I take a vacation to Block Island, just off the coast of Rhode Island. Almost half of the island is protected as conservation land, so it feels very natural wherever you go. At the beach, wild roses grow along the dunes, dotting the landscape of shrubs, sand, and shells with orange rosehips. On other parts of the island, boulders dominate the view. Overall, Block Island filled with textures, which are captured in the elements of this terrarium." -- Alli M., Stylist
Alli's pedestal terrarium starts with a base of sand, pebbles, and glittering ornamental quartz. Seashells and dried grass from Block Island surround a planting of Pilea 'Aquamarine' and Dwarf Cotoneaster, which reminded her of wild rosehips on the dunes.
You May Also Like: