Ask Our Expert: Summer Skincare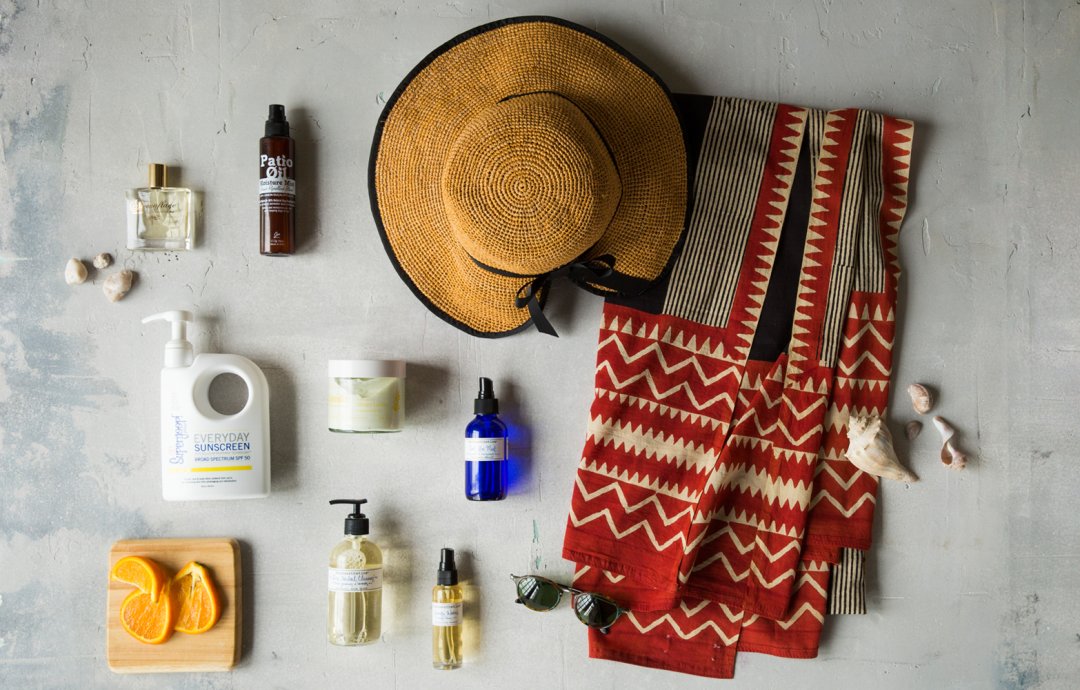 As the first summer weekends quickly approach, we're gathering our essentials for days at the beach and long, lazy evenings in the backyard. Though we love warm days and dinners on the patio, bright sun and buzzing bugs can be tough on the skin. For tips on putting your best face forward all season long, we asked the expert-- beauty buyer Sarah S. She shares her summer staples, below.
Aromaflage Insect Repellent Perfume: "I love this perfume for outdoor events and summer weddings. Aromaflage was developed by a couple who discovered the insect repellent powers of essential oils while on their honeymoon in southeast Asia. When their bug repellents didn't work, they asked the locals for advice! This formula really works to keep bugs away, and it smells so good that I even wear it from time to time in winter."
Jao Patio Oil Moisture Mist: "While I save Aromaflage for fancier occasions, this is the bug repellent I use day-in and day out. The mist won't make your skin feel oily, and it uses naturally bug-repellent lemon and eucalyptus so there's no chemical scent. I spray it liberally anytime I'm headed outside."
Adjustable Raffia Sun Hat: "Along with sunscreen, a good hat is essential to keep your skin safe from summer rays. I love this simple, raffia one because an adjustable band means it's comfortable enough to wear all day."
Supergoop Family Size Everyday Sunscreen: "Supergoop is my favorite sunscreen; it's much better for your skin than the standard drugstore options, and the oil-free formula absorbs easily. When I head to the beach with my husband and daughter, I throw this larger bottle into my bag so I know we won't run out."
Lavido Mandarin & Bergamot Body Lotion: "This is truly the best scent I've ever found! Lavido is a small company based in Israel, and their products can be tough to locate in the US. The citrusy combination of mandarin and bergamot lends itself perfectly to summer. It's so pure and uplifting."
Farmaesthetics Cool Aloe Mist: "The scents of lavender and bergamot make this a great summer refresher. I actually keep a bottle in the fridge at my beach house. It's so soothing and cooling, whether you've gotten too much sun or just need a pick-me-up on a hot day."
Fresh Citrus Fruit: "As you might notice from the scents on this list, I'm a huge fan of citrus for summer! That extends to my warm weather snacking-- I always pack some kind of citrus fruit when I'm headed to the beach. It's a perfectly light, on-the-go snack."
Farmaesthetics Fine Herbal Cleanser: "I love this cleanser and use it religiously-- it's truly my #1 beauty favorite! It's very gentle, with no astringent or drying qualities. I especially love it for summer because it leaves skin feeling clean and non-oily, plus it offers a light, refreshing scent. I try out other cleansers from time to time, but I always come back to this one."
Farmaesthetics Orange Flower Remedy Water: "This is a brand-new arrival for summer, and it's a super simple skincare option for the season. It's a hydrosol made using orange flowers. Also known as floral waters, a hydrosols are created by steam distilling fresh flowers. This is a great natural toner, and orange water is very calming."
Sunglasses: "A self-explanatory essential for taking in the view or digging into a good book on the deck!"
Scarf: "It might seem counterintuitive to want a scarf in summer, but I keep one in my bag all season. It's perfect for cool evenings or covering your shoulders when you need a break from the sun. The extra-large size of this block-printed option means that it can double as a sarong or impromptu beach blanket, too."
Great suggestions on this list! The scarf in the photo is lovely - where is it from?