Summer Skin Essentials with Farmaesthetics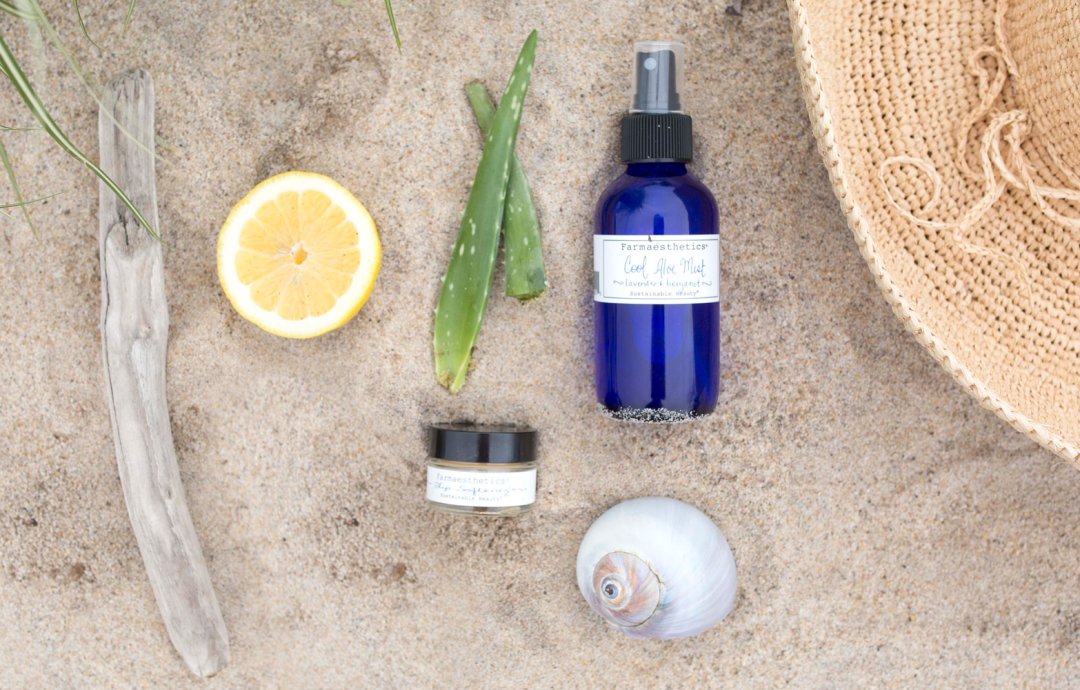 As summer begins, we've stocked up on sunscreen for days at the beach and in the garden. However, the season's heat and sun can leave skin feeling lackluster for even the most diligent SPF users. In search of remedies beyond SPF for a beautiful and healthy summer complexion, we turned to our favorite skincare guru: Farmaesthetics founder Brenda Brock.
Brenda says, "There's so much more to summer skincare and sun protection than just applying an SPF. Although SPF is important, it's only a part of a smart skincare regimen. There are a number of ways we can layer protection to support the body's defense against summer heat and the sun's damaging rays. A hat and loose clothing are no-brainers, but some interesting data is starting to emerge, pointing to the benefits of a more comprehensive approach to sun protection. Here are four of my favorite recommendations for a sun-safe summer."
1. Eat more citrus! Studies are suggesting that citrus consumption offers a protective effect against human skin damage due to sun exposure. Citrus fruits are packed with flavonoids that have been shown to improve the skin's ability to protect against UV rays. I love this connection, because citrus often grows in hot, sunny climates where sun exposure is harsh and year-round. It's also interesting to think that traditional summer beverages are so commonly made or garnished with lemons!
2. It's key to apply a skin-mending, deeply protective lip treatment balm before, during, and after exposure to sun and heat. Farmaesthetics Lip Softener is made for harsh weather conditions and dry summer heat. It's formulated with heady calendula petals and beeswax, which work together to bind and retain moisture; this protects against conditions that can crack and harden the tender tissue of the mouth. The Lip Softener can also be used before applying additional lip products that contain SPF. (Remember, SPF is not a treatment product.)
3. Don't forget the importance of immediate post-sun skincare. It's important to cool the skin and wick away heat to reduce inflammation, which can continue to wreak havoc long after direct sun exposure ends. Our Cool Aloe Mist is a superb après sun treatment mist. Aloe soothes, lavender settles, and witch hazel cools the skin, helping to reduce damage from inflammation due to sun and heat exposure. So spritz away!
4. Hydrate, hydrate, hydrate! A tall glass of lemonade or lemon water before, during, and after sun exposure will keep you hydrated and feeling summery inside and out.