Stone Fruit + Doe Run Cheese Board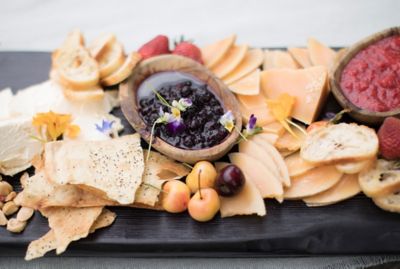 We're big fans of cheese boards for any occasion, whether we're setting out a honeycomb and cheese plate as an appetizer for a large dinner party or simply pairing fig and chèvre as a snack for an afternoon spent on the patio.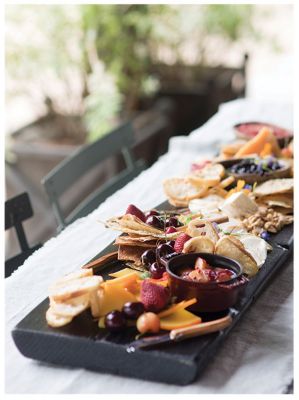 The cheese board at our Terrain Cafes is also a work of culinary art and we're always looking to get expert tips from our talented chefs on how to make our at-home boards better. This time, we chatted with Ryan Bloome from Glen Mills to get his take on pairing summer stone fruits with local cheeses from Doe Run. Read on for his seasonal suggestions.

"Letting the seasons dictate what we put on our cheese boards is very important," Ryan says about crafting the perfect spread. "In the early summer I love strawberries with EVERYTHING, but in July and August when cherries are around, we use them raw and cooked to create a variety of textures and flavors to go with different cheeses."

Seven Sisters: "We paired a grilled peach and pink peppercorn compote with this gouda-style cow's milk cheese that's laced with a nutty, rich quality. It's a perfect balance of smoky and sweet, rich and peppery. We always do a lot of tasting to figure out our flavor profiles to help with pairing accoutrements. The key is to taste things separately and together. Cheese is inherently salty so fruits are its best friend because salt loves sweet!"

Blow Horn: "This is a unique cheese from Doe Run. It's an awesome bloomy rind cheese that has a fantastic mineral quality and salinity from the aging process. It's firmer than most bloomy rinds but still has a great creamy texture. We paired it with a plum and chervil salad since softer cheeses do well with raw fruits like apples, plums or even a spiced compote like cinnamon pear."

St. Malachi Reserve: "My absolute favorite cheese! We did a roasted cherry and honey jam here because we love tart and acidic with firmer, nuttier cheeses like this cow's milk variety. When we're putting together cheese board pairings, we always use seasonal fruits like these cherries. Though with Doe Run, the cheese also changes with the seasons. The farm exclusively uses milk from their own cows, sheep, and goats, and they can only milk their goats and sheep from about May to September, which limits the production of some cheeses to certain times of year. We love that about them - it's the way mother nature intended!"

Crafting the perfect cheese board can be creative and fun, but if you'd rather leave it to the chefs, stop by one of our Terrain Cafes to try our famous farmhouse board!