At the Forge with Stone County Ironworks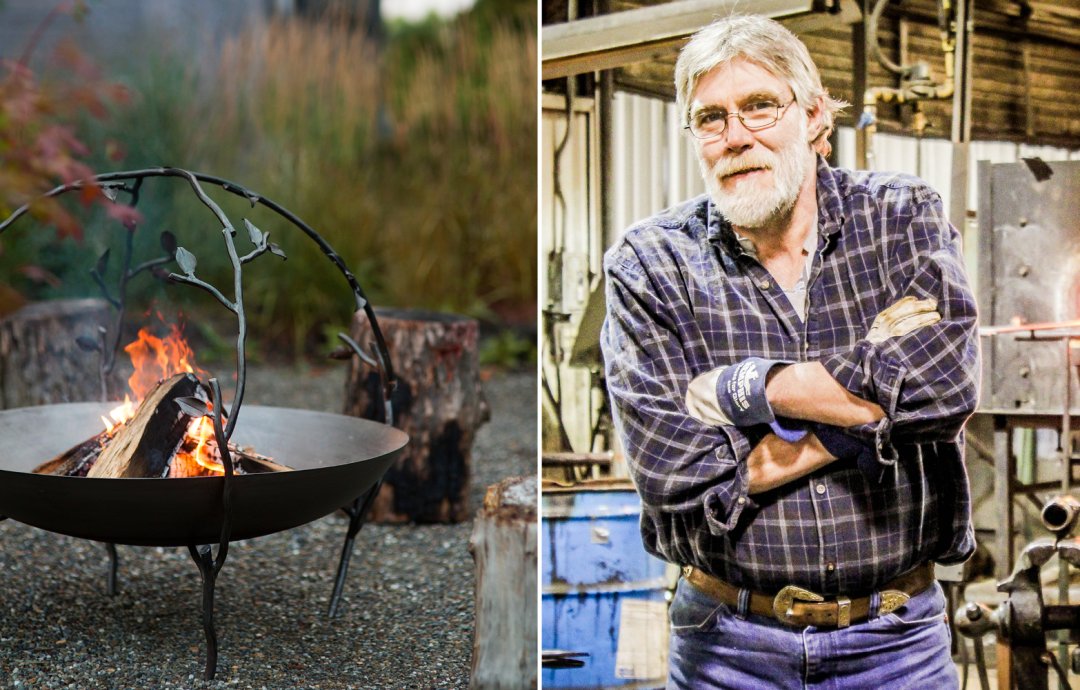 Though our Woodland Arbor Fire Pits can be found in backyards across the country, each one is made in the same place -- the heart of the Ozark Mountains. Using time-honored techniques, the artisans at Stone County Ironworks make every fire pit by hand; they also make our Log Base Fire Pit and iron log holders. Stone County, Arkansas is passionate about preserving the unique culture of the Ozarks; its famous folk festivals celebrate the region's music and craftsmanship, including traditional metalworking. We caught up with Andy Baker, VP and General Manager at Stone County Ironworks, to explore the hand-crafted roots of our favorite fire pits and talk about life at the forge.
terrain: How did Stone County Ironworks get started?

Andy: Stone County Ironworks was started by a local artisan who learned to blacksmith at the Ozark Folk Center, a local state park that honors heritage crafts. He began making and selling a few items like candle holders and hardware for local markets, and they became overwhelmingly popular. Eventually, an entire portfolio of home furnishings grew, all made from our hand-forged iron.
terrain: You're based in the Ozark Mountains -- what is life like there this time of year? Does the landscape inspire your creations?

Andy: The Ozarks are a timeless, inspirational escape from fast-paced life; it's a step back in time. Creating things by hand has been part of the culture here for generations. It's a beautiful and magical place, where wispy clouds of mist descending from the mountains meet the ringing of hammers on anvils during an early morning drive to the forge. Nature's design is perhaps our greatest teacher. What better way to capture some of the most beautiful surroundings on the planet than to interpret them with a lasting element like iron?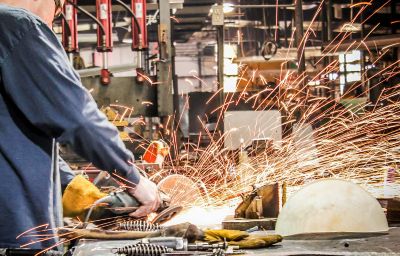 terrain: How does a new design take shape at Stone County Ironworks?

Andy: Creating reality from an idea is a specialty of Stone County Ironworks. We begin by partnering with one of our senior artisan blacksmiths. These guys and gals are masters of their craft. First, we create a prototype completely free-hand; a lot of careful thought and skill are put into making this first item. The piece will be held to a high standard, since it must be both aesthetically pleasing and efficient to make. We often create multiple versions until we make one that's just right. While this may sound like a time consuming process, Stone County Ironworks has mastered it and can often turn around a complete prototype in a matter of days!
terrain: Can you describe how one of our fire pits is made?

Andy: Every piece of the fire pit is carefully crafted by hand. The enormous bowls are made by spinning a large circle of steel on a lathe. As it spins, the steel is slowly formed over a large wooden mold. Branches, like the ones that top the Woodland Arbor Fire Pit, start out as 100% recycled iron stock, which is textured to give it an organic bark-like feel, then heated and forged into shape -- all this is done by hand. Finally, small twigs and branches are crafted and welded into position on the larger branches. The leaves are all made by using an age-old blacksmithing process. Even the veins in each leaf are the result of a careful blow from a blacksmith's hammer on an anvil that very well could be from the Civil War era.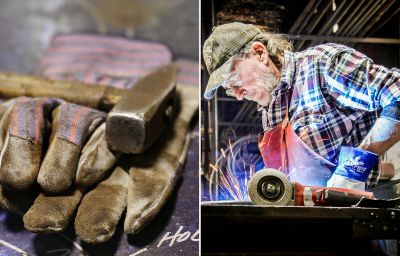 terrain: What do you enjoy most about a day at the forge?

Andy: The people and the craft. It's so fulfilling to handle the iron, stand in the heat of the forges, listen to the anvil ring, and watch a work of art be formed from a piece of iron. The people who work here are true artists; they bridge the gap between a product and a treasure every single day. They work hard and sweat because they're passionate about their trade. They love what they do, and I love to see that.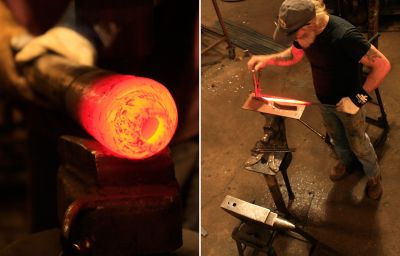 Images courtesy of Stone County Ironworks.