A Planter to Start Summer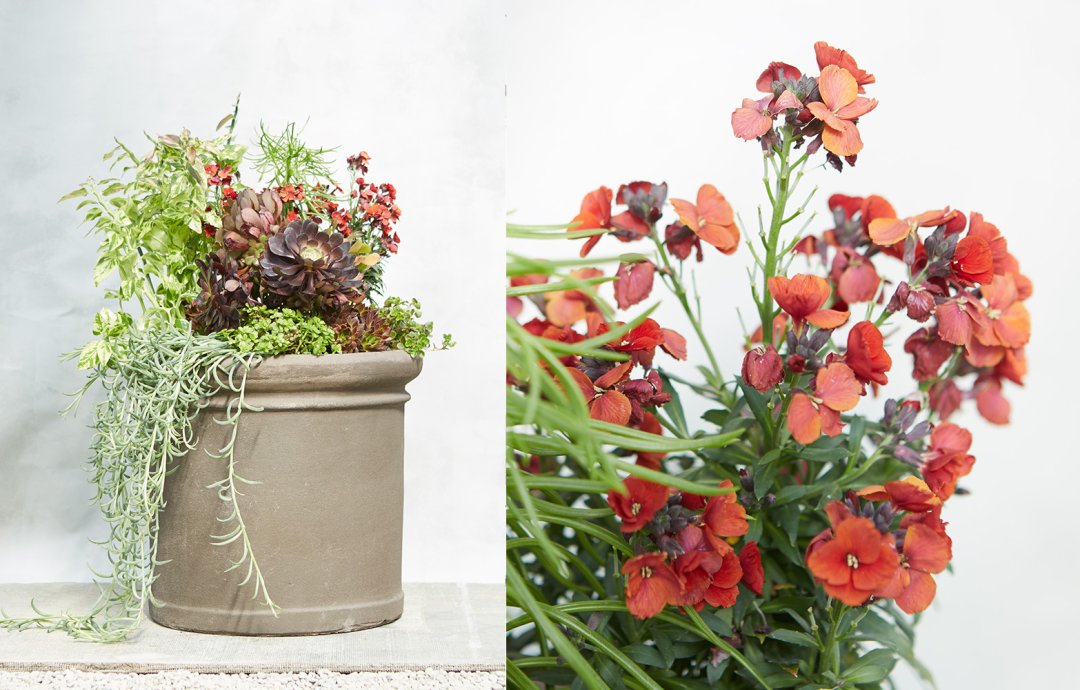 With Memorial Day just around the corner, we're eager to welcome summer blooms in the garden. As the seasons change, we planted the lush container above with flowers to brighten spring's final days, plus a mixture of hardy succulents that can take the heat as temperatures rise in June. A stately, Danish-designed cylinder planter from our Købenler collection holds this transitional arrangement, which will bring color to the patio or poolside from late spring through high summer. Designer Adelyn D. shares her spring-to-summer inspiration, below.
Adelyn says, "For instant color, we chose a centerpiece of Erysimum 'Winter Rouge,' a hardy, evergreen wallflower that blooms almost year-round with crimson and terracotta orange flowers. We picked up the deep red in the petals with a burgundy Aenonium, which will thrive throughout the hot summer months. The rest of the container is filled with a palette of vibrant, hardy greenery, starting with a classic Sempervivum (commonly known as 'Hen and Chicks'). Another sturdy succulent, Sedum tetractinum, provides low-growing filler for the base of the planting, while tall Pedilanthus tithymaloides 'Splish Splash' offers a backdrop of variegated foliage. Two contrasting species of Senecio round out the planter. Spiky Senecio 'Himalaya' provides tall stems topped with starbursts of foliage, while Senecio 'Fish Hooks' trails over the container's edge with silvery vines. Together, this collection of hardy plants is perfect for an easy-to-maintain garden that will take you from spring into summer."