3 Ways to Spice Up Your Popcorn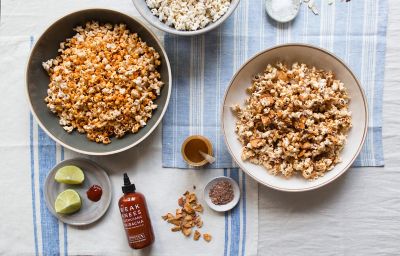 With three new popcorn varieties arriving to fill our old-fashioned popper, we're getting creative with flavorful toppings for our favorite snack. From peppery gochujang to creamy caramel, we've found the perfect sweet and spicy additions to a fresh bowl of popcorn made over the fire pit. Read on for a few tips to get popping, plus a trio of flavor combinations we love.
For perfectly popped corn, place 2 tablespoons of vegetable oil into your popcorn popper along with the kernels, then hold it over a hot fire and listen for the oil to sizzle. Once sizzling, shake the popper constantly over the flames and listen for popping. Continue shaking until the popping slows, then remove from the fire. Keep shaking away from the flame until the popping sounds have fully stopped. Open the popper carefully and add your favorite toppings.
Sriracha Lime Popcorn
This popcorn brings the heat with a coating of spicy Gochujang Sriracha, a complex and flavorful hot sauce that starts with a savory base of fermented chili peppers. Whisk a tablespoon of sriracha with a tablespoon of melted butter, then drizzle over the popcorn and toss until coated. Finish with a squeeze of fresh lime juice.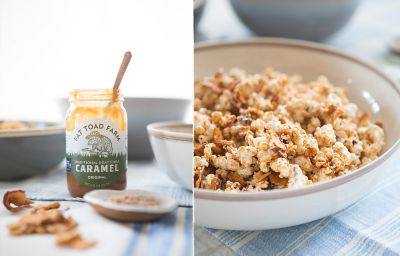 Caramel Apple Popcorn
This sweet treat starts with velvety caramel sauce from our friends at Vermont's Fat Toad Farm. We drizzled the popcorn with caramel, then added dried apple slices and a dash of Cinnamon Salt.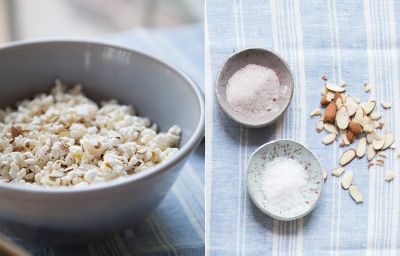 Chocolate Chili Popcorn
Striking the perfect balance of sweetness and spice, we paired Chocolate Chili Sugar from Golden Fig with a dash of popcorn salt, then mixed in roasted almonds for crunch.
You May Also Like: