A Southern Supper with Chef Vivian Howard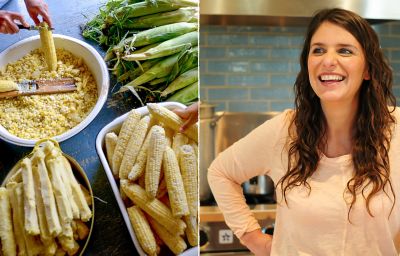 Later this month in Westport, we'll welcome our friends from Garden & Gun for a Southern Supper hosted by a special guest -- Chef Vivian Howard. Creator of the popular PBS series A Chef's Life, Vivian owns Chef + the Farmer, where she serves thoughtful, creative dishes inspired by the ingredients and traditions of eastern North Carolina. Our upcoming meal will feature a menu drawn from her cookbook, Deep Run Roots, which celebrates the flavors and stories of the North Carolina town where she grew up. Read on for our conversation about summer in the South, her favorite moments from A Chef's Life, and what she's cooking right now.
terrain: How did you decide to become a chef? What inspires you when you're cooking?
Vivian: I first got into cooking because I wanted to be a food writer. I was a server in a restaurant in the West Village, and was fascinated by the stories that the chef told about his dishes. The concept of the restaurant was Southern food via Africa. I had never thought about the food I ate growing up in the South as anything other than boring, and I was really inspired by the stories behind the food. I started cooking in the restaurant before serving at night, to get a behind-the-scenes look at the kitchen so I could write about it. But I decided that I loved cooking and the camaraderie of the kitchen more than writing, so I kept doing that.
Today, I'm still inspired by seasons and stories. Every dish that I imagine has some historical seasonal relevance. When I come up with dishes for the restaurant, I always build a story around them. That way, my servers can go to the table armed with not just how the dish tastes, but why it exists.
terrain: What do you love most about living in eastern North Carolina? What's it like there this time of year?
Vivian: What I like most about being here is that I live right across the street from my parents. My sister, nephew, and niece all live on this street too. We're a very tight knit family, for better or worse. We live about an hour from the coast, and our summers here are all about when you can get to the beach -- many people go every weekend. We just came back from our family beach week. Summer here is unbearably hot with very high humidity, so we spend a lot of time inside or in the pool!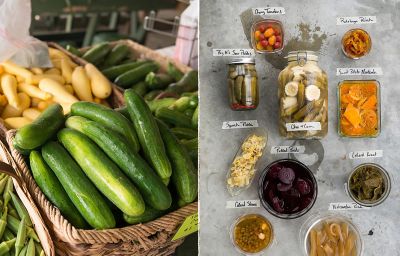 terrain: Here at terrain, we're all big fans of A Chef's Life! What are some of your favorite people and places that have been featured in the series?
Vivian: I love Miss Lillie Hardy, who I met when her mother was teaching me how to can tomatoes. While she watched us cook, Lillie was very suspicious of me and my motivations, but she saw that I treated her mom with respect. Afterward, she asked me if I was ever going to learn to make biscuits on the show. I thought I knew how, but I agreed to let her teach me. I ended up failing so miserably that she told me to get my hand out of the biscuit bowl! That was probably my favorite experience while making the show. Even if you think you know everything, there's always more to learn -- and teachers can come in unlikely moments. That experience opened my eyes to all the accomplished home cooks around me, and the knowledge they have.
Generally, I try to learn from people who I'm already connected to in some way. I met Lillie and her mother because Lillie works on a farm where I source a lot of my vegetables. I also do a lot of cooking with my mom and people from my past. It can be hard because this old, country cooking is a lost art, and the people who do it best are pretty old -- many are not with us anymore. One thing I would love to learn is how to pressure can things without a lot of acid or sugar, like green beans or potatoes. A lot of people who know how to do it have passed away, or don't do it anymore.
terrain: What ingredients do you like to cook with in summer?
Vivian: I'm in love with watermelon. It's so hot and humid here in North Carolina, so there's nothing more satisfying than a wedge of cold melon. I also love tomatoes in all ways -- roasted, raw, confit. Corn rounds out my summer trifecta. This time of year, we're getting ready to "put up" corn. We get 4 bushels, which is around 400 ears, then blanch it, cut the kernels off the cob, and freeze the corn in little Ziploc bags. Around Thanksgiving, we start bringing out the bags from the freezer and try to ration it all year.
Join Chef Vivian Howard for a Southern Supper in Westport on Friday, August 25.
Photos © Rex Miller from Deep Run Roots by Vivian Howard, Little Brown and Company 2016.