A Southern Supper with Chef John Currence
Later this month at Styer's, we'll welcome our friends from Garden & Gun for a Southern Supper hosted by a special guest -- Chef John Currence. A James Beard Award winner, Chef Currence owns City Grocery Restaurant Group in Oxford, Mississippi, where he serves innovative Southern dishes inspired by his Louisiana upbringing. Our upcoming meal will feature a menu drawn from his first cookbook: Pickles, Pigs & Whiskey. As we made our dinner plans, we discovered a terrain connection -- our garden buyer Chris D. worked for Chef Currence during his college years in Oxford! Chris says, "I started working for John in his first restaurant, City Grocery; in the time I was there, he also opened Nacho Mamma's and Kalo's Tavern. I cook and drink the way I do now because of John -- I have such great memories from that time and it's a huge part of why I am who I am today." Read on for our conversation with the chef about life in the South, inspiration in the kitchen, and what he's cooking this summer.
terrain: How did you get started as a chef?
John: I was born in New Orleans, where food is undeniably a huge part of life -- you're either into food or you're exiled. Growing up, real food was everywhere on the landscape -- po' boy shops and neighborhood seafood restaurants made up the character of the city. During my childhood, my maternal grandparents kept a huge garden that my grandmother canned and preserved from. So in the summers with them, we spent a lot of time in the garden. I also spent a lot of time at fishing and hunting camps with my dad and his friends, where the guys were the ones in the kitchen. This was in the seventies, when the WWII "women in the kitchen" mentality was still common, but that was never a part of my life. My dad and his friends loved the conviviality of trash talking and cooking gumbo together. I saw the overt joy that these men -- my dad's friends, businessmen -- took from cooking.
By complete accident, I went to work on a tugboat in south Louisiana the morning after I graduated from high school. I was the low man on the totem pole and the captain said, "Congratulations son, you're the cook." When I said I didn't know how to cook, he told me, "You're cooking for a bunch of Cajuns, so all you need to know is how to make a pot of coffee and a pot of rice -- everything else is an afterthought." He gave me a copy of The Joy of Cooking and said, "Here you go." That was my first cooking job.
When I went to college, I would just go to a local café and pick up a little bit of work whenever I needed it. I ended up in Chapel Hill at UNC, and became a dishwasher at Crook's Corner, where I moved up through the kitchen in record time. At that point, Bill Neal was being recognized by The New York Times as the guy legitimizing Southern food. Crook's Corner was my introduction to real restaurant work. The relationships from those early days still exist 35 years later.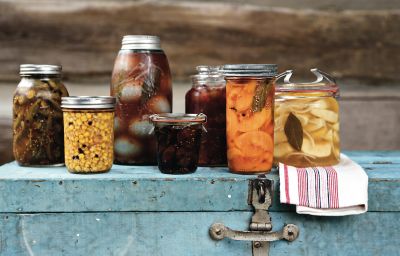 terrain: What inspires you when you're creating a new dish?
John: Inspiration has changed for me over the years. As a young chef, I was driven to create things that no one had ever tasted before -- finding combinations no one had ever come up with, sourcing exotic ingredients. That quickly gave way to the understanding that these things had no point of reference in my life, and food is about creating a narrative. If I was going to excel, I needed to focus on things that told a story from my life. In the late nineties, my food became a reflection of growing up in New Orleans, of the time spent at those fishing and hunting camps, of the years my family spent living in Europe, and of the gardens and food of my grandparents' house. Their food was the true food of the South and Appalachia, which I thought was beneath me as a young chef. Once I quit overthinking, cooking became the easiest chore in the world. My food became much more honest and soulful, with an understanding of the story around all of it.
At this point in my career, with several restaurants, my life is completely different than it was seven or eight years ago. I'm not on the line or in the kitchen every day, but I'm happiest on the days when I cook all day long. I spend a lot of time talking to my cooks about the significance of anticipating the season and waiting for things to come in. Just because something is available doesn't mean it should be used out of season, and there's a massive dichotomy between people who understand that and people who don't. Now, I spend a lot of time with individual ingredients, or working to recreate things I've experienced while traveling. I'm so inspired by all my friends in the chef's community, too. I love going out and dining in their restaurants, or finding someone new. That speaks to what I love more than anything in the world -- being next to someone performing at the absolute top of their game.
terrain: What are some of your favorite things to cook in summer?
John: Like anyone else, beautiful vegetables. We're just drowning in tomatoes right now. Nothing could taste more like summer to me than tomatoes and corn. And as hot as it is down here, I spend a lot of time over a hot fire cooking all the vegetables as they're coming in. During summer, I love anything on the grill with a smoky, charcoal flavor.
Our Southern Supper with Chef John Currence is now sold out. We're teaming up with Garden & Gun for another event in Westport, A Southern Supper with Chef Vivian Howard, on August 25. Limited tickets remain -- reserve your space here.
Photos © Angie Moiser from Pickles, Pigs & Whiskey by John Currence, Andrews McMeel Publishing 2013.
You May Also Like: