6 Things: Unusual Blooming Branches for Spring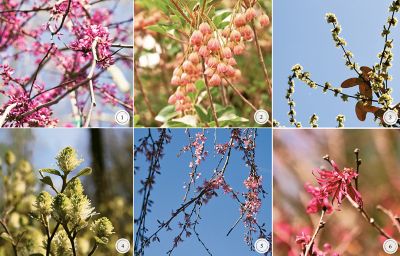 While we may not be able to rush the warmer temperatures, later days, and fresh produce of the spring season, we can bring a bit of springtime into the winter with flowering branch arrangements in our homes. "Forcing" is a way to trick spring branches into producing early blooms and leaves during the colder months. Forsythia, willow, quince, crab apple, and honeysuckle branches are a few of our favorite classic flowering varieties to force through the spring but there are some more unusual blooms we're particularly excited about this season. Read on for our favorite six.

1. Mediterranean Redbud: With deep pink flowers that look as though they grow directly out of the trunk, the mediterranean redbud produces flowers on trees that are at least a year old. These pea-like flowers are known for their sweet-sour taste and are often added to salads, eaten on their own, or pickled for condiments.
2. Redvein Enkianthus: True to their name, these creamy pink flowers are accented with red veins. Blooming in clusters that hang heavy with petals, the Redvein makes a dramatic statement set in a simple glass vase.
3. Oriental Spicebush: With foliage that's beautiful all year round, it's hard to go wrong with the Oriental Spicebush. During the growing season, expect glossy green leaves that transform into shades of orange and red come fall. Winter brings a light brown hue to the leaves and spring's flowers appear as greenish yellow buds.
4. Witch Alder: Fragrant and sweet, the witch alder blooms attract butterflies and birds in the wild, and will definitely attract compliments from your guests in your home. The white, bottle brush-shaped flowers bring texture to indoor arrangements or look lovely on their own.
5. Weeping Higan Cherry: A truly gorgeous harbinger of spring, the weeping Higan cherry blossoms make a dramatic impact with the magnitude of their bloom.
6. Witch Hazel: A fresh take on a familiar flowering branch, this witch hazel produces reddish-purple flowers. It's equally striking in autumn, when the leaves put on a show in fiery orange and red.

For the full step-by-step tutorial on how to force spring branches, pick up a copy of our book, Terrain: Ideas and Inspiration for Decorating the Home and Garden.
You May Also Like: