6 Things: Autumn¿s Pumpkin Harvest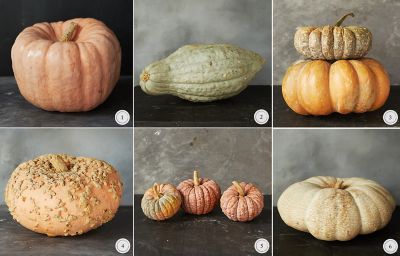 One of the best things about fall is the abundance of fun, festive pumpkins filling our stores. And we don't just mean the orange classic - from pale pink to deep purple, short and squat to long and lean, heirloom pumpkins are a sight to behold. Recently, we got the scoop on all things squash from Kerry Ann M. from our green goods team - which one is your favorite?

1. Porcelain Doll Pumpkin: Shiny, smooth, squarish and light pink. If a pumpkin could have charm, this would be the most charming.
2. Blue Hubbard Squash: A hefty squash with a sage green-blue color - it's a unique shape to lean against a fall planter or front step.
3. Fairytale and Bliss: These pumpkins are happy stacking partners! In general, large Fairytale pumpkins will form a very stable base to any pumpkin stack. Bliss pumpkins are softer and should rest towards the top of a pile. We love the subtle play of shared and contrasting colors between this pair.
4. Peanuts: An heirloom variety called Cucurbita maxima 'Galeux d'Eysine.' Hints of smooth pink show under tawny "peanut shell" like growths - two textures and two colors in one and all fun.
5. Black Futsu Squash: With a range of colors from dusky to rose, green to gray, these soft small pumpkins make a perfect pile in a basket or line down a tablescape. They are also incredible eating!
6. Flat White Pumpkin: White is classic; flat is easy to stack.

Ready to start adding pumpkins to your fall décor? Call your local terrain store to see what we've got currently in stock!