6 Things: Plants to Pair with Garden Structures
Garden structures have a permanent home in our green spaces. Not only do they add height and visual interest, they provide necessary support for some of our favorite plants and flowers. But deciding which structure and plant to pair together can be tricky - and that's why we've brought in our experts to help! We caught up with Kerry Ann M. from our green goods team to get her ideas on how to best use trellises, fences, and obelisks in our gardens this summer.
1. Woven Willow Border Fence: Keep your garden paths clear of rambunctious stems and nodding flowers with the low-profile willow fence. Elegant and abundant fall-blooming anemone look particularly striking against the natural border.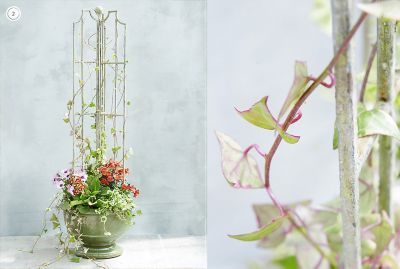 2. Winged Iron Trellis: This is best for chunkier vines like ivy and hyacinth bean (Dolichos lablab). If the vine needs some persuasion up the trellis, wrap stems around the frame and secure using short lengths of black elastic.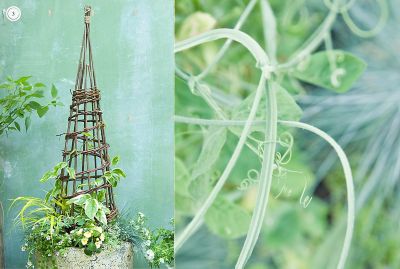 3. Willow Garden Obelisk: Here, I love using sweet peas and other vines that use tendrils to climb. The delicate greenery creates a beautiful contrast against the chunky willow structure.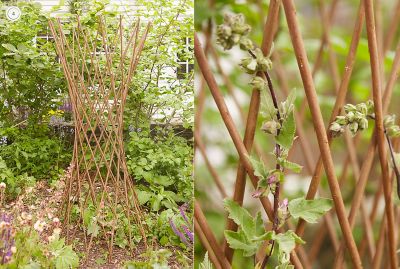 4. Woven Willow Flare Obelisk: The flared shape of this obelisk distributes growth naturally so it's great for morning glories and other vines that are vigorous - without a pointed tip, you don't have to worry about the structure becoming top heavy and congested.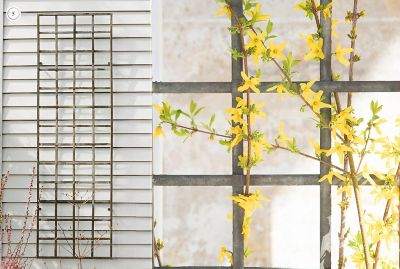 5. Iron Wall Trellis: A woody vine that develops enough of a trunk to reach the trellis from the ground is ideal here; the trellis keep air flow between the plant and wall reducing perennial insect, nesting, and disease problems. Bignonia capreolata ('tangerine beauty') or Gelsemium sempervirens ('carolina jessamine') are two great options.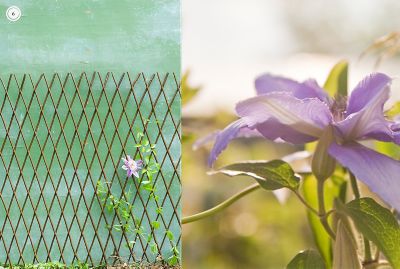 6. Expandable Willow Diamond Fence: For delicate vines like cardinal vine (Ipomoea quamoclit), the native Alleghany vine (Adlumia fungosa) or clematis rooguchi, I prefer the diamond fence. And since it's expandable and crafted from lightweight willow, you can easily move it around your garden based on your seasonal needs.

Ready to add some structure to your garden? Visit your local terrain store to create your own perfect pairing.
You May Also Like: