6 Bouquets for Late Summer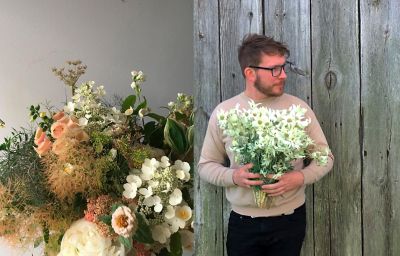 When it comes to bouquets, we're consistently wowed by the creations of our Installation Designer, Matt M. We love following along on Instagram to see his latest work, whether he's creating a one-of-a-kind wedding bouquet, experimenting in the studio, or exploring the flower market. Recently, summer's garden bounty has been making for some especially spectactular designs. We chose six of our favorite arrangements and dug into the details with Matt.
Left (above): "This bouquet was for a very special bride who wanted something that reflected her love of gardening and old-fashioned flowers. I had a blast putting together an enormous handful of mock orange, hydrangea, smokebush, yarrow, zinnia, and Solomon's seal. The crowning glory, a fruited tomato branch, along with the bronze fennel, were cut from my own garden. This was truly a labor of love."
Right: "Flannel flower (Actinotus helianti) is an Australian native that's really sought-after in the US flower market. I was very excited to finally get my hands on some!"
Left: "This was the foyer arrangement for a wedding I styled at a client's home. A circular staircase was the perfect backdrop for the over-scaled urn arrangement, which featured airy branches of eleagnus arching over a textural scene of eremurus, peony, viburnum, hydrangea, gypsophila, and dogwood."
Right: "Comprised almost entirely of foliage, this textural arrangement of foraged chokecherry, euonymous, privet, eleagnus, geranium, and grasses was topped off with sanguisorbia, a tiny flower that packs a big punch."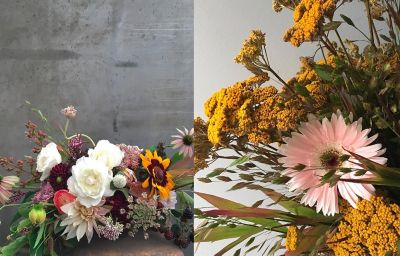 Left: "I created this small, sprawling arrangement for a styled sweetheart table during a photoshoot collaboration with our friends at BHLDN. The arrangement is a bountiful late summer crop of dahlias, coneflower, joe pye weed, rudbeckia, crape myrtle, raspberries, and much more."
Right: "A studio shot of some fun materials. I'm always looking for unexpected ways to use familiar elements, so I really loved this gerbera daisy amidst the yarrow and sea oats."
I came across Matt's instagram a few days ago, then saw his one-of-a-king bouquets on your feeds the past few days. I am a fan! Matt, you do good work! Hopefully, when wedding bells are in my future and I have the opportunity to work with you.