Share: A Conversation with Tracy Craighead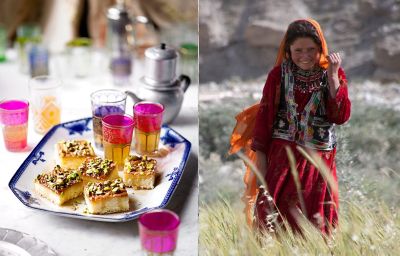 On May 23 in the Garden Cafe, we're welcoming local advocate Tracy Craighead for a dinner inspired by Share: The Cookbook That Celebrates Our Common Humanity. Tracy is one of five women who worked together to develop this beautiful book, which spotlights the mission of Women for Women International. For more than 20 years, WfWI has worked with women in countries devastated by war and conflict; their programs provide these women with support and skills to become active, empowered, and self-sufficient citizens. 100% of the publisher's profits from Share go to support WfWI. Tracy tells the story of the book and more about the impact of WfWI, below.
terrain: To begin, can you tell us a bit about Women for Women International and its mission?
Tracy: WfWI's tagline is "One woman can change anything, many women can change everything." Since 1993, the organization has helped more than 462,000 marginalized women in countries affected by war and conflict. They serve women in eight countries by offering support, tools, and access to life-changing skills that help the women move from crisis and poverty to stability and economic self-sufficiency. WfWI brings women together in a safe space to learn life, business, and vocational skills. Once enrolled, each woman receives a monthly stipend – a vital support that enables her to participate. These women increase their ability to earn an income with new, in-demand skills, and learn about their legal rights as well as health and nutrition. The result is stronger women, families, and communities – these women are ultimately the key to building stronger nations.
terrain: What was the inspiration for Share? How did the book and its contributors come together?
Tracy: My friend, Lauri Pastrone, was the one who introduced us all to WfWI. She had first learned about it when she heard the founder, Zainab Salbi, speak on Oprah. Lauri sponsored a woman for ten years, then wanted to do more. Growing up a minister's daughter, she was familiar with a church cookbook and thought that would be a good way to raise money and awareness for WfWI.
Lauri, our friend Bette Anne Berg, and I were the first three to work on Share, but after making some headway we got stuck at a crossroads when we needed help with creative direction. At that point, designer Ruth Tyson joined the project, and she introduced us to food editor Alison Oakervee. The five of us worked together throughout the creation of the book, which included many new experiences for everyone!
terrain: Annie Lennox, Emma Thompson, Paul McCartney, and Alice Waters are just a few of the people who share recipes in the book. How were you able to assemble such a remarkable list of contributors?
Tracy: Early on, we agreed that the contributors had to be activists, humanitarians, or philanthropists. That was a critical moment for us in shaping the book, and from there it became easier to identify who we wanted to approach for contributions. Though we received contributions from some big names, we also wanted to make sure that Share wasn't just a celebrity cookbook; we wanted to spotlight real, regular people who were doing good in the world, as well as the women who are a part of the WfWI programs. Early on, some famous contributors came to us through "six degrees of separation." For example, Lauri's daughter went to school with Emma Thompson's daughter. As the list grew, it became easier and easier to gather the recipes. When Meryl Streep agreed to write the forward, it was a watershed moment for us; it gave the project so much credibility and recognition. And those bigger names helped attract media attention so the book could be successful.
We also had some remarkable experiences in finding contributors who have made a huge impact in the world. As we gathered recipes, we received contributions from two great humanitarians: Nelson Mandela and Desmond Tutu. At that point, I also really wanted to spotlight Aung San Suu Kyi, a Burmese politician and activist who was a political prisoner in her country for almost 15 years. When we were working on the book, she had just been released. I called and connected with people all around Myanmar and was finally able to get in touch with her – and she agreed to participate!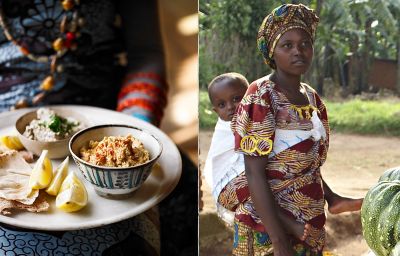 terrain: What were some surprises during the development of the book?
Tracy: For starters, I never thought the book would take four years to complete, and that I would still be involved with the project another four years after that! The five of us on the core team developed what I believe will be life-long friendships. We became so close through the ups and downs of the project and our personal lives; working together on Share, we supported each other as women, mothers, wives, and daughters.
I also never dreamed that this book would take me to Kosovo and Rwanda. In Kosovo, we were able to connect with some women in the WfWI program. These women were so strong and resilient, even though they had suffered so much. Based on how incredible that trip was, we decided to go to Rwanda six months later. Hearing the stories of the women there, who overcame a terribly violent genocide, was so inspiring. In spite of their experiences, they were still so warm – they still laugh, smile, break into dance and song. I've gone back to Rwanda again in the years since with my teenage daughters; it was an amazing experience for all of us to see the strength of these women.
Most importantly, when meeting the women in these countries – the women we had set out to "help" – we found that they became the people who inspired us! We were so motivated by their ingenuity, their perseverance, and how hard they work to rebuild their lives, care for their families, and be active citizens of their countries. It put our own lives into perspective and made us very grateful for what we have, and so often take for granted.
terrain: Can you share some highlights of the upcoming dinner at terrain?
Tracy: I'm very much looking forward to talking about the experience of making Share. I'll show some slides of the places we travelled, tell some anecdotes about the making of the book, and talk about the ongoing impact of this project for me and my own family. I'm looking forward to what happens when you get a group of like-minded people together; it generates such good discussion, energy, and exchange of ideas. And of course I'm looking forward to the menu, based on delicious recipes from Share!
Photography Credits: Philip Webb (1l, 2r, 3l); David James (1r); Lauri Pastrone (2l); Simon Wheeler (3r)