Heirloom Rose Season at 3 Porch Farm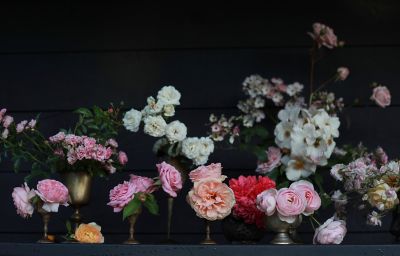 Just outside of Athens, Georgia, dreamy fields of roses are in full bloom at 3 Porch Farm. Thousands of sustainably-grown flowers are cultivated on the farm each year by husband-and-wife team Steve and Mandy O'Shea; Mandy is also the artist behind Moonflower floral design studio. During the past three years, 3 Porch Farm has become home to dozens of heirloom rose varieties, grown for their unique beauty and ability to withstand the Georgia climate. On the cusp of summer, we caught up with Mandy to hear the latest from the farm and talk all things roses.
terrain: Flower season is in full swing! Can you tell us what the farm looks like right now? Which blooms are you most excited about?
Mandy: I call this time of year Spring: Part 2. The ranunculus, anemones, daffodils, and peonies have already come and gone. A few weeks back, our hardy annuals and perennials began to trickle in. That group includes lots of wildflower-like blooms, such as campanula, agrostemma, bachelor buttons, delphinium, snapdragons, and foxgloves. Strawflower, Queen Anne's lace, cosmos, chamomile, coreopsis, and feverfew are also beginning to bloom as we speak. Most of all, our heirloom roses have really caught us off guard this month with bountiful blooms, coming into season right when we need them the most.
terrain: We're dying to hear more about the roses! Can you share a bit about the varieties and why you chose them?
Mandy: Growing up in the South, I never had the opportunity to be impressed by roses. The little I knew about them was that folks who kept roses sprayed them regularly with chemical fungicides and pesticides to keep the plants 'healthy.' That alone made them quite unappealing to me -- not just because of the chemical factor, but also because I had no interest in pampering a plant that suffered in our hot, humid climate. I didn't understand the hype about roses until I moved to California, where the roses were gorgeous! They thrived there, and I could actually stick my nose in them and enjoy their fragrance. I fell for them once and for all.
After moving back to our farm in Georgia, I noticed how the roses planted by the previous owners were thriving, disease-free, and zero maintenance. I called the former owners to see what varieties they had put in, and they told me about the Antique Rose Emporium in Texas. They sell heirloom rose varieties that have been rediscovered along roadsides and at old homesteads across the South, and all their plants perform best under organic growing practices. So I ordered a few hundred plants...just to see.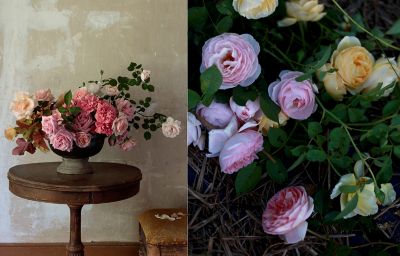 terrain: After a few years, what have you learned about growing roses? How long can you harvest them for?
Mandy: I planted the first batch three years ago, and chose many varieties so I could find the ones that worked best for my purposes -- weddings, sales to designers, and farmers' markets. I grew the wide assortment for a year, then selected the top performers based on ease of maintenance, usable stems, re-blooming and, of course, appearance.
I'm still a total novice when it comes to roses, but here's what I've learned so far. Make sure to prune correctly in late winter, fertilize in early spring, and watch for thrips come May's first flush. We also keep the roses mulched with wheat straw, irrigate them weekly (rather than overheard watering), and add compost in spring. Just as they start to flush out in spring, we spray them with a kelp and fish emulsion; that treatment is repeated after the May and June harvests.
Unfortunately, Japanese beetles have been destroying the second flush in June, though we've been testing some pest management techniques to help with the issue. By then, it's almost too hot for the tender rose petals, so we're really okay with losing flowers to the beetles until fall. We make sure to deadhead at the end of June, which creates another flush of beautiful roses in autumn. After the final harvest, we don't spray the roses again because we want them to go dormant for winter. Encouraging growth at that point might result in injured plants. During each flush, we harvest flowers every day for three or four weeks!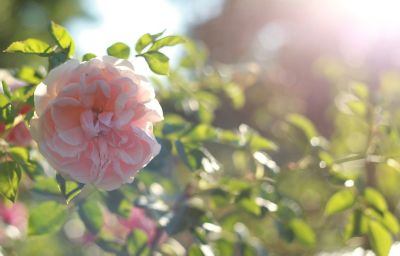 terrain: What are your favorite rose varieties on the farm?
Mandy: My favorites fall in a few different categories. My most productive varieties are used for farmers' markets because they put out a ton of usable stems. These include Heritage, Abraham Darby, Quietness, Belinda's Dream, Molineux, Graham Thomas, and Sally Holmes. Abraham Darby had weak stems at first, but I've noticed that they're starting to bulk up, so I hope they'll be even better next year.
When it comes to wedding designs, I fought against the idea of roses for some time. But the fact is, tucking a few fragrant, fluffy blooms into a bridal bouquet really softens it and ups the love vibes. For wedding designs, Star of the Republic is gorgeous! It's a beautiful, apricot blush color with strong stems and a great fragrance. I also love Folksinger, another apricot bloom that fades to cream. Ballerina, Rosarium Uetersen, and Cecile Brunner are very dainty and textural in wedding work.
Finally, there are some roses that just make me happy! A variety called Julia Child, a few that I grow for hips, and about 40 others that I can't seem to cull. Soon, we'll be adding some popular Distant Drum varieties to our mix. We'll keep our fingers crossed that they like our climate as much as we like them!
terrain: Can you tell us about some of your favorite bouquets, arrangements, or installations that have included roses?
Mandy: Showing up with over 70 bundles of heirloom garden roses for Mother's Day markets here in the South really made my day. I loved knowing that they were going to make so many mamas' days, helping them relax and enjoy a moment with such loveliness.
Another exciting project showcasing roses was an arrangement that's featured in the gorgeous new book by Gemma and Andrew Ingalls, In Full Flower. The roses I used in that arrangement were the first ones I harvested from any of our plants. To me, the image isn't just beautiful -- it marks the beginning of my love affair with roses. It really captures the luxury that I associate with fragrant, just-picked roses from the garden.
Photography: 2l from In Full Flower by Gemma & Andrew Ingalls (Rizzoli, 2017). All other photos courtesy of Mandy O'Shea.