Printed Heart Shortbread Cookies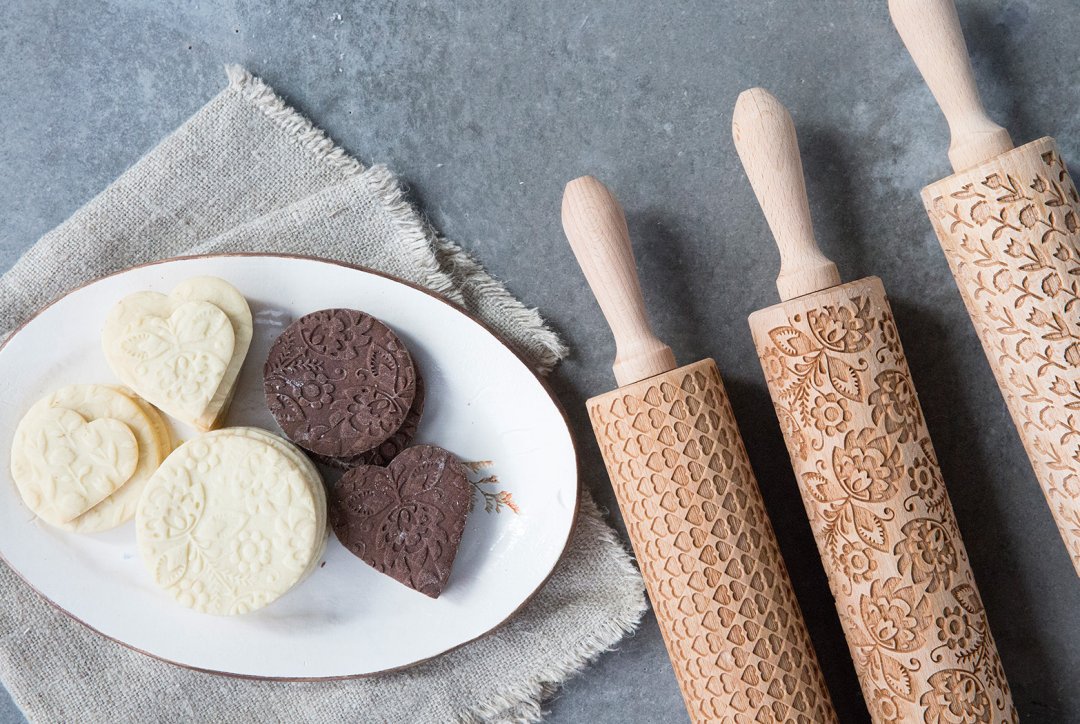 Just in time for Valentine's Day, a collection of cleverly-designed rolling pins has arrived in our kitchen for baking sweet, handmade gifts. Handmade in Poland, each beech wood rolling pin is laser engraved for a sharp, precise relief that will create perfectly patterned cookies. Printed with hearts and flowers, these charming confections make the ideal Valentine's dessert. Read on to find the recipes for classic shortbread and chocolate cookies, plus tips for achieving a crisp, clear pattern every time.
Shortbread Cookies
3 1/4 cups all-purpose flour
1 cup unsalted butter
1.5 cups confectioner's sugar
1 egg (room temperature)
2 teaspoons vanilla or almond extract
1 teaspoon salt
Chocolate Cookies
3 cups flour
1 cup dutch processed cocoa
1.5 cups butter
2 eggs (room temperature)
2 teaspoons vanilla or almond extract
1 teaspoon salt
Cream together the butter and sugar, then add the eggs and vanilla or almond extract. Mix well. Sift together dry ingredients, then add slowly into wet mixture until well-incorporated. (Important: If using a different cookie recipe, choose one without leavener or acid for best results.)
Roll out the dough with a normal pin until it reaches your desired thickness, then roll again with the embossed pin. It may be easier to press directly on the body of the pin, rather than using the handles. Roll slowly with lots of pressure to get a clean embossed pattern, dusting with flour as needed. Keep a toothpick handy to clean out any excess dough in the rolling pin. Once the pattern is complete, cut out the cookies and arrange them on a baking sheet.
Preheat oven to 390°F. When oven is fully heated, place the cookie sheet on the rack below the middle rack, as the embossed pattern will melt if too near the top of the oven. Bake for 7-8 minutes, until the tops of the cookies appear dry rather than shiny. As soon as the cookies come out, use a stick pin to pop any air bubbles and press the bubbles flat.