Plymouth Artisan Cheese: History + How It's Made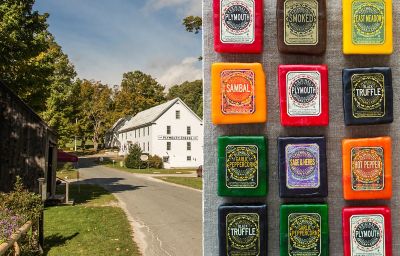 In 1890, the tiny town of Plymouth, Vermont became home to a cheese factory that used time-tested techniques to produce delicious, granular curd-style cheeses. More than a century later, husband and wife team Jesse and Sarit Werner came to Plymouth and revitalized the historic factory, once again producing cheese using its old-world formula and antique equipment. Made with fresh, raw milk from Vermont cows, every batch of Plymouth Artisan Cheese is crafted and cut by hand. Sealed inside vibrantly-colored wax, these flavorful cheeses can now be delivered right to your doorstep in our new cheese trios. Recently, we caught up with Sarit to learn more about the history of the Plymouth Cheese Factory and how cheeses are made there today.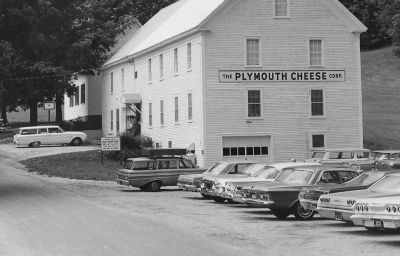 terrain: Can you share some highlights from the long history of the Plymouth Cheese Factory?
Sarit: The Plymouth Cheese Factory is the second oldest cheese factory in the United States. It was built by Col. John Coolidge, a dairy farmer who was the father of President Calvin Coolidge. The factory is located on the Calvin Cooldge State Historic Site in Plymouth, Vermont. We're open to the public for tours and tastings year round!
terrain: Can you describe the granular curd process for cheese making? What inspires you when you're creating a new cheese variety?
Sarit: When we revived the cheese factory, we also revived the old way that the Coolidges used to make cheddar. Granular curd cheddar is one of the oldest types of cheddar, originating in England and brought here by the first European settlers in the New World. It's made by continuously stirring the curd and a lot of hard, manual labor. The result is a cheese with a rich, open-bodied texture. When we're thinking about new cheeses, we're inspired by flavors from around the world, as well as other varieties that have proven popular. We like trying new things, and we love what tastes good.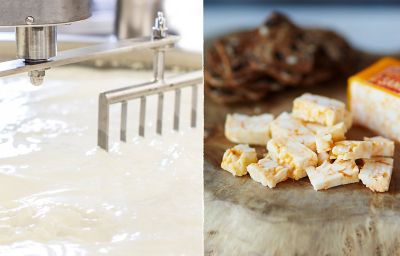 terrain: What are some of your favorite things to pair with Plymouth cheese?
Sarit: Nothing beats a crisp apple or a juicy pear! Onion marmalade, fig jam, and grapes also complement our cheeses nicely.
terrain: The landscape around Plymouth looks so beautiful! What's life like in Vermont this time of year?
Sarit: Each season in Vermont is unique and magical. The end of summer here is full of flowers, fresh produce, green lawns, and lots of classic Americana. Fresh raspberries were abundant for the last few weeks, and now it's blueberry season. I've started to notice some red and orange leaves in the trees, which means that autumn is just around the corner. Peak foliage season will probably happen early this year -- my bet is on the beginning of October. One can never really tell, though!
Photo credits: 1L & 3L: Henry Hargreaves; 2 & 4: Calvin Coolidge Presidential Foundation; 1R & 3R: Terrain